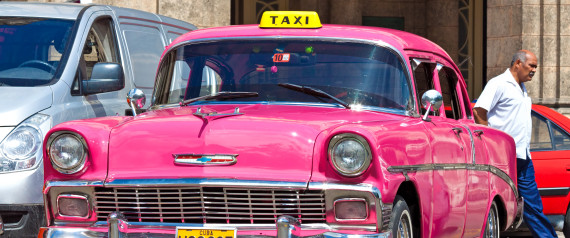 On a recent CODEPINK trip to Cuba with a 150-person delegation, we found the island crawling with Americans taking advantage of the relaxation of U.S. travel restrictions and the historic thawing of U.S.-Cuban relations. Conan O'Brien was taping his comedy show at a Cuban cigar factory. Senators from Minnesota, Missouri and Virginia were dining at the elegant National Hotel after several days of meetings with Cuban officials. A scholarly group from The Nation magazine was touring the museums with U.S.-Cuba expert Peter Kornbluh. Fresh-faced high school students from Wisconsin were contestants in a jazz competition at a smoke-filled Havana night club. And bulky Texas ranchers with cowboy hats were chugging through Old Havana in a bubble-gum pink 1950 Chevy convertible taxi, scoping out potential business opportunities.
Our huge delegation, put together in a mere six weeks, included black Americans looking at race issues, LGBT activists exploring gay rights, and health workers meeting with Cuban family doctors. The exchanges were lively, enlightening and inspiring.
Cubans and Americans alike are delighted with the opening. Cubans are desperate for more money to flow into the island, especially now that Cuba's key trading partner Venezuela is experiencing an economic and political crisis. And despite the 50-plus years of U.S. attempts to sabotage the island's socialist experiment, Cubans feel a great affinity towards Americans. They love U.S. jazz, movies, baseball and Apple computers. Americans love Cuban salsa, cigars, rum, beaches, vintage cars and the outgoing, fun-loving Cuban people. For decades, travel restrictions have kept Americans for joining the millions of Canadians, Europeans and other vacationers who flock to Cuban beaches every year. Technically, U.S. citizens have not been banned from traveling to Cuba, but under the 1917 Trading with the Enemy Act, it has been illegal for Americans to spend money there.
A series of exceptions have been made over the years for family, religious and humanitarian purposes. This has generally meant that U.S. citizens could only travel as part of a group that was granted a license for an approved purpose. The licensing process was daunting, time consuming and often rejected.
Following the recent announcement that the two nations were working to normalize relations after 54 years, President Obama used his executive authority to expand travel to 12 categories deemed to further U.S. humanitarian and policy goals. These include visits to close relatives, academic and educational programs, professional research, journalistic or religious activities, and participation in public performances or sports competitions. Tourism is not on the list.
Under the new regulations, travelers don't have to go through the cumbersome process of applying for a license; they simply sign an affidavit saying that their purpose is one of the 12 authorized categories. The Treasury Department reserves the right to investigate whether an individual has kept to that agenda and can ask for documentary proof up to five years after travel, but such investigations have been rare, even in the past when restrictions were much tighter.
The new rules also remove any limit on how much money a traveler can spend per day, and allow visitors to bring back $400 worth of goods, but only $100 of that can be for alcohol or tobacco. When banks have worked out the kinks, travelers will be able to use U.S. credit and debit cards (up until now everything had to be paid for in cash).
It's still hard to physically get to Cuba directly from the United States. Right now there are only a few expensive charter companies that fly directly, mostly from Miami, but Delta and other major airlines hope to get permission from both countries to start commercial flights in the coming months. CheapAir just announced that Americans can book online for flights to Cuba via Mexico. Carnival Cruise is hoping to dock in Cuban ports.
The prospect of lifting all travel restrictions anytime soon is dim, since that is in the hands of Congress. A bill in the Senate has been introduced by an unlikely champion: Mormon conservative Republican from Arizona, Jeff Flake. "For 50 years, we have tried the current policy of prohibiting travel to Cuba and it hasn't worked. It's time for something new: It's time to allow Americans to travel freely to Cuba," said Flake as he introduced the Freedom to Travel to Cuba Act (S.299). An identical bill was introduced in the House (HR664) by liberal Massachusetts Democrat Jim McGovern along with another strange bedfellow, Republican Mark Sanford from South Carolina.
Despite the bipartisan nature of these bills and the focus not on Cuba but on the right of Americans to travel freely, it is likely to encounter serious opposition, particularly from Republicans who say that tourism would only put more money into the pockets of the Castro regime.
Others counter that tourism helps spread more money into the general Cuban economy, including the private sector (private restaurants and homestays are now scattered throughout the island). They contend that creating more back and forth between Americans and Cubans is positive for both people, and that the U.S. government should not be in the business of restricting the movement of U.S. citizens. Cuba is actually the only country where the U.S. government restricts travel.
U.S. groups have been challenging these travel restrictions for years. Pastors for Peace organizes caravans throughout the United States, collecting material aid, and then openly — and illegally — takes it to Cuba. "We travel Cuba without a US government license as a conscious act of civil disobedience and as an expression of resistance to the US government's cruel and immoral economic blockade of Cuba," they say on their website. Their 26th caravan is scheduled to begin on June 29, and they will travel throughout the U.S. to Mexico, then fly from Mexico City to Cuba. The Venceremos Brigade has been organizing travel challenges since November 1969; their next trip will take place over two weeks in July 2015.
But with the relaxation of restrictions, the floodgates of travelers to Cuba have opened and it's going to be hard to stop them. U.S. visitors are anxious to get to Cuba before it's teeming with other Americans and the tsunami of capitalism — from McDonalds to Walmart — that they think might invade the island.
If Cuba is on your bucket list, check out CODEPINK's next trip from April 26-May 3. This Caribbean destination is hot these days, and it's not just the weather.
By Medea Benjamin, Huffington Post
March 3, 2015
Medea Benjamin is the co-founder of the peace group CODEPINK and the human rights organization Global Exchange. She is the author of No Free Lunch: Food and Revolution in Cuba.