An eagerly awaited documentary of an incredible journey of reunion is coming to Bare Bones Film and Music Festival in Muskogee, Oklahoma. Two hundred years after they were separated by the horrors of the Transatlantic slave trade, a group of Africans and their lost family in diaspora find each other again. A timeless, universal story of discovery, acceptance and hope for the future.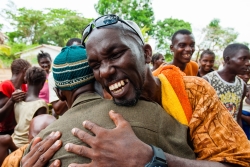 Muskogee, OK, March 31, 2014 –(PR.com)– The story of a unique reunion, long thought utterly impossible, is coming to Bare Bones Film and Music Festival in Oklahoma. Two hundred years after their African ancestor was kidnapped, a group of her descendants from Cuba not only traced their roots back to her village through the songs and dances she taught them, but traveled there to spend time living with their African family. Having received a rapturous response at various African and Black Film Festivals, the movie of their incredible journey, They Are We, is now coming to Oklahoma for the Bare Bones Festival. It will be at the Studio Broadway in Muskogee, Oklahoma on April 9th at 7pm.
The documentary is a production of Unshackled Media Ltd. More information about the film, plus quotes and photographs, are available from info@theyarewe.com
Dr. Emma Christopher, Director/Producer: emma.christopher@sydney.edu.au +61405-847-298.
Sergio Leyva Seiglie, Producer: serjseiglie@gmail.com +61435-407-509
facebook.com/theyarewethemovie
Largely cut off from the world by their country's politics, none of the Gangá-Longobá group from central Cuba had ever been allowed to leave their island home. They certainly never imagined that the origins of the songs and dances that they had inherited from an ancestor, and so proudly kept alive, would be traceable to a tiny, remote village in Sierra Leone, West Africa. But then, through some remarkable, fateful discoveries, their lost African family heard their songs and dances and, utterly astonished and overjoyed, declared 'They Are We!" And so when travel regulations for Cubans were at last relaxed, four members of the Gangá-Longobá made their first-ever overseas journey, traveling by plane, boat, dugout canoe and then on foot to stay in their ancestral village. It turned into the most rapturous day in the village's history: the lost people they had always wondered about were coming home. For the Gangá-Longobá, as member Alfredo Duquesne said, it was "like touching the moon." After two centuries, they could sing their shared songs together at last.
After being nominated for Best Foreign Feature Film and Best Documentary at each film festival at which it has shown, They Are We is now coming to Muskogee, Oklahoma for the Bare Bones Film and Music Festival, where it is again award-nominated. Next it is going to Paris, France and then all over Europe before the cast and crew return to Sierra Leone to travel the country showing the movie.
Unshackled Media Pty Ltd
New South Wales, Australia
A.C.N. 164 371 591
A.B.N. 30 164 371 591