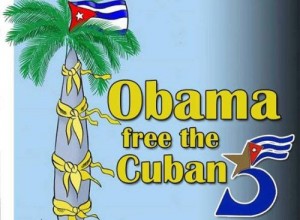 París, Sep 29.- A journey this weekend has demanded the freedom of the Cuban antiterrorists in prisons of the United States in the commune of Cliché, near this capital, convoked by the organization of solidarity France-Cuba.
The activities began with the screening of a documentary "The Five, Obama and the Election of Injustice", produced by that association and the Colombian journalist and writer Hernando Calvo.
The video allowed to present briefly the case of the Cuban Five, as they are known internationally and the biased actions committed against these Cubans, declared to Prensa Latina Karine Alvarez, president of the organization in the Siene Heights Department.
Gerardo Hernández, Ramón Labañino, Antonio Guerrero, Fernando González and René González were arrested in 1998, submitted to a biased trial and condemned to long jail sentences for alerting their country of the terrorist actions organized by the Miami mob.
Rene and Fernando are back home in Cuba after serving their complete sentences, but the other three are still in U.S. prisons.
The journey coincided with the 54th anniversary of the creation of the Committees for the Defense of the Revolution (CDR), occasion for participants to taste Cuban cuisine traditional plates like the stew with root vegetables and pork meat, usually served on that date, prepared bv the collective "Among Friends".
The Cuban ambassador to France, Hector Igarza, highlighted the initiative and recalled that the CDRs were created by the Commander in Chief of the Revolution Fidel Castro in 1960 to defend the young revolution, while the Five alerted their country of the actions of counterrevolutionary groups based in Miami,.
Another rally to demand the freedom of the Cuban Five was held in the Bastille, organized by the association Cuba Sí-France, whose members gather at that symbol of the French Revolution on the last Friday of each month to promote awareness among the French people about the case of the Five.(Prensa Latina).