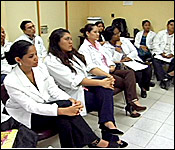 From 7Newsbelize.com
Tonight, we have some positive news coming out of the Ministry of health after the bad publicity of multiple vehicle thefts. 34 Belizean doctors have returned from Cuba after 6 years of study. It was a challenging course, but these 34 aspiring medical professionals pushed through – and made it back home with their diplomas. Now, they are getting ready for an internship at the KHMH. Courtney Weatherburne spoke to them today:..
Mr. John Waight, Coordinator, Medical Internship Program
"It is designed primarily to help reestablish and relocate Belizeans who have been trained in Cuba through the good offices of the Cuba/Belize agreement to relocate and train these young doctors for work in our settings given that there are differences in practice between practices in Cuba and practice here in Belize. It consists of year of in hospital practice and supervision. There are 4 rotations through the 4 major specialties and there are clinical skills that have to be acquired during that time and a fairly robust and intensive continuing medical education which is what I supervise."
Rahleel Elijio, Practicing Medical Doctor
"My experience being in Cuba for the past six and a half years ago was really a fruitful one. I give thanks for everything that I have learnt in Cuba. Cuba is unlike many other countries, we have been through a lot like the medical system in Cuba is very well organize and it's different in comparison to our system here in Belize. There are two different programs. I was based in the ILAM project which is located in Havana, Cuba and we were actually there for 2 years 4 months where we did our pre-med course where we had to learn Spanish for a period of 4 months and we had courses like basic biochemistry, physiology, histology, embryology and of course Cuban history."
Uldine Wright, Practicing Medical Doctor
"I must say that it was a great experience. I don't think I could have gotten what I got in Cuba anywhere else. The experience that I got is remarkable. I had a lot of clinical experience. We were given a lot of responsibilities. Ever since the third year we were dealing with patients, we were responsible for patients conduct, management and everything and we were under supervised training, but it was really good. Whatever you put into it that's what you get out of it. I am for the development for the medical services here in Belize because we came from Cuba in which there is a medical office in almost every block and so we are used to having the doctors available for every patient and that's something that Belize needs because there are lots of remote areas that don't have access to medical healthcare as easy as is in Cuba."
Irbin Segura, Practicing Medical Doctor
"On a whole I think that the whole experience has changed me a lot. I think it has changed all my peers because for one instance Cuba is a very different country to live in and we had to learn to adapt and we had to learn how to cope, how to work as a group and one of the most important things we learnt to me was we learn how to treat patients and not their disease. We learnt to see a person as a whole and to try to help that person to instill in the community and to help the community. That's why I like Cuba, it was a social way at looking at medicine." They will now fulfill 1 year internship at the KHMH.