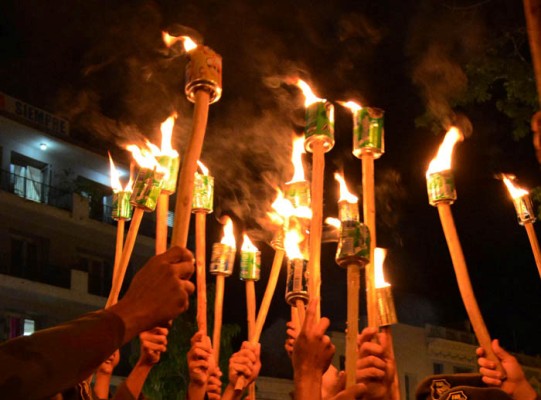 Havana, Cuba, Jan 27.- Dozens of thousands of Cuban youngsters will take the streets of Cuba on the eve of the anniversary of the birth of Cuban National Hero Jose Marti in the traditional March of the Torches.
Though it usually takes place only in Havana city, remembering the first March of Torches led by Cuban Revolution leader in 1953 to mark the centennial of Marti and to express their opposition to the Batista dictatorship, this time youth will march in every Cuban city and town.
On this occasion, the slogan will be "La Patria en el corazón" (Homeland in our hearts) announced Yordan Bango, Vice-president of the Federation of University Students (FEU by its Spanish acronym).
In statements to CAN, Bango said the slogan shows how proud youngsters are for what Cuba is and stands for, and speaks of their commitment to History and to the present, the Revolution and the future.
At 10 PM, FEU President Jennifer Bello Martínez will deliver a speech at the University of Havana's steps before lighting up the torches to start the march down central San Lazaro Street to the Fragua Martiana, a museum that marks the place where a young Jose Marti was sent to hard labor for his ideals.
All over the country, youth will take the streets with their torches to show support for the continuity of the Cuban Revolution. (ACN)
Radio Cadena Agramonte, January 27, 2017