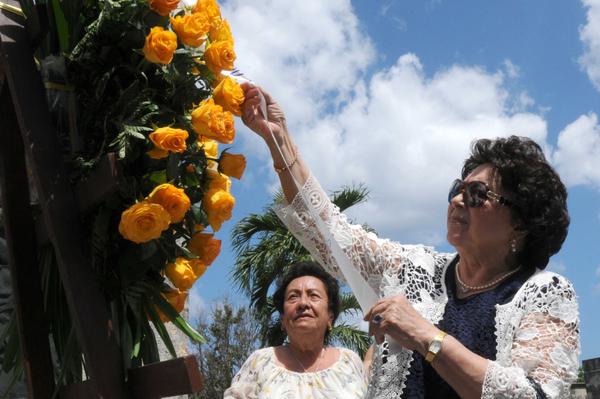 Havana, Cuba, May 23.- Maria Eugenia Neto, widow of the father of the People's Republic of Angola, Agostinho Neto paid tribute on Monday in Havana to the Cuban soldiers that fell in combat during their internationalist mission in Africa.
The distinguished visitor placed a floral wreath at the Veterans Independence Mausoleum at Colon Cemetery in Havana accompanied by Brigade General Delsa Esther Puebla Viltres, Vice President of the Combatants Association of the Cuban Revolution.
The Cuban soldiers contributed to the independence of Angola and other African nations like Namibia and fought against the apartheid regime in South Africa, said Maria Eugenia Neto in statements to ACN.
Cuba achieved turning the world in a place where people are better and helped save us from the enormous danger of the South African racists, supported by the US, said the President of the Agustinho Neto Foundation, author of a vast number of books.
She announced the next edition of a collection of books on poetry among them, the volumes Four Poems of Agostinho Neto (1957), Poems (1961), Sagrada Esperanza (Sacred Hope, 1974) and Una Renuncia Imposible, (Impossible Resignation) post mortem (1982).
Neto (Luanda, 1922 – Moscow, 1979) was one of the sponsors of Angola's People's Liberation Movement (MPLA) and after the country's independence, became President of Angola in 1975, country located in the southwestern region of Africa.
The leader of the Cuban Revolution, Fidel Castro received the last group of internationalist soldiers on May 25th, 1991 when they returned to their Homeland after the conclusion of Operation Carlota which lasted 15 years.  This gesture is an example of the spirit of solidarity of the Cuban people and the capacity of the Caribbean island to mobilize a number of military forces and means.
We take from Angola, the friendship that units us to that Heroic nation and the gratefulness of the Angolan people and remains of our dear brothers that fell in combat, said Army General Raul Castro Ruz, then Minister of the Armed Forces on December 12th, 1976.
On December 6th 1989 after an extraordinary work of the specialists of the Forensic Institute, to identify and prepare the remains of the Cuban internationalist soldiers in the cemetery of the Cuban Military Mission in Angola, Operation Tribute began.
Operacion Tributo consisted in transferring the remains of the 2 thousand 77 internationalist soldiers to Cuba and bury them at the Panteon de los Caidos (Mausoleum of Those that Fell in Combat).
The date of December 7th, on the 93th anniversary of the death of Major General Antonio Maceo and his assistant, Captain Panchito Gomez Toro, Day National Mourning, was chosen for the solemn ceremony and popular tribute to those that contributed to victory with their blood. (acn)
Radio Cadena Agramonte, May 23, 2017