Russia and Venezuela strengthen their ties in a state visit by the Venezuelan Vice President to the Russian capital of Moscow.
March 3 (teleSUR) Venezuelan Vice President Delcy RodrIguez met with the president of the Russian Senate as part of an official state visit to the country.
RELATED

World Unions Show 'Anti-Imperialist' Solidarity With Venezuela
The president of the Russian Senate Valentina Matvienko, gave assurances that her country will take any possible measures to avoid a military intervention by the U.S. in Venezuela, after meeting with the vice president of that country, Delcy Rodriguez.
According to RT, the Russian parliamentarian expressed concern about the pretexts that the United States government could use to justify or provoke a military invasion.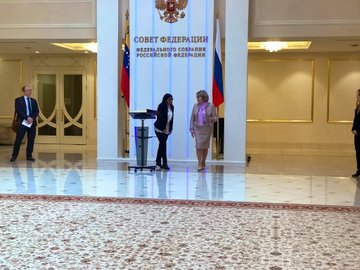 #Moscú | La presidente del senado ruso, Valentina Matviyenko, recibió a la vicepresidente venezolana, Delcy Rodríguez en la sede del Consejo de la Federación de #Rusia @teleSURtv671:21 AM – Mar 3, 201951 people are talking about thisTwitter Ads info and privacy#Moscow | The President of the Russian Senate Valentina Matviyenko received the Venezuelan Vice President Delcy Rodriguez at the home of the Council of the Russian Federation #Russia @teleSURtv
He also showed solidarity with the Venezuelan people and reaffirmed the position of respect for sovereignty that Russia has adopted: "Only the people of Venezuela have the right to define their future," he said.
Venezuelan Vice President Delcy Rodríguez is currently on an official visit to Russia, to help reinforce bilateral cooperation amid a context of economic aggression by the United States.