Venezuela's capital city hosted marches for and against President Nicolas Maduro administration.
April 6 (teleSUR) Venezuela's Bolivarian people took the streets Saturday to carry out the sixth consecutive anti-imperialist march, an event aimed at backing President Nicolas Maduro administration and rejecting the interventionist policies by the United States and its regional allies. 
RELATED:
Venezuela: No Act of Imperialism Will Deter Cooperation Between Free Countries
In Caracas, the Chavista mobilization started at 09:00 a.m. from three different locations and moved to the Miraflores Palace, where President Maduro's speech is expected.
One of those gathering points was the Ali Primera Park at the west side of Caracas; at the city's downtown, the meeting place was the headquarters of Can TV, a public phone company; and La Bandera metro station also reunited thousands who came from the southern neighborhoods.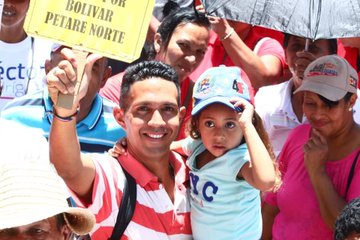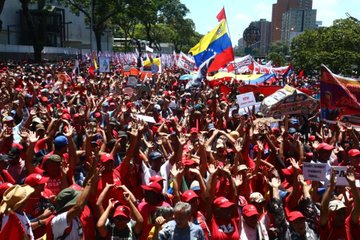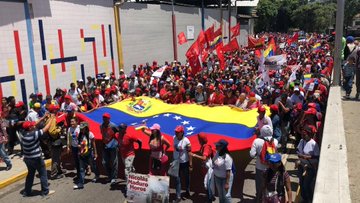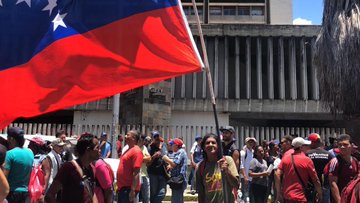 teleSUR English@telesurenglish
#InPictures | #Chavistas' march comes a day after the #DonaldTrump administration imposed new sanctions against #Venezuela's national oil company. #HandsOffVenezuela1911:15 AM – Apr 6, 201920 people are talking about thisTwitter Ads info and privacy
"We are going to defend peace in every corner, parish, municipality, avenue, community and neighborhood. They are not going to take away our peace. We are fixing the electrical system from the Imperialist bestial attacks," President Maduro said and requested "maximum consciousness, nerves of steel, calm and sageness!"
At Saturday early morning, the Venezuelan president invited citizens to join the sixth patriotic march.
"April 6: We are all going to fill Caracas' streets with popular joy and colors so as to ratify Venezuela's anti-imperialist spirit. Within a permanent mobilization, let's continue together defending national peace and independence. No more interference!"
While the United Socialist Party of Venezuela (PSUV) initially called the mobilization expressions of popular participation that have been massive across the country.
The opposition politician Juan Guaido also called for demonstrations in some cities. His so-called "Big Bar (trancazo) was proposed to be a drill for what he calls "freedom operation", which is the name for the U.S. backed strategy against the government of Nicolas Maduro.
The opposition announced meetings at Sucre, Chacao, Baruta and Libertador. From this Caracas' municipalities, Guaido's followers are expected to move towards a closing meeting in El Marques, a neighborhood at the northeast of the city.
Saturday's marches comes just days after the National Constituent Assembly (ANC) voted to strip Guaido of his parliamentarian immunity at Venezuelan Supreme Court of Justice (TSJ).