Leaders of social movements from around the world paid their respects to the president in Caracas.
Jan 11 (teleSUR) Venezuelan President Nicolas Maduro met Friday with representatives of social movements from Latin America and the world in the Casa Amarilla, the headquarters of the Foreign Affairs Ministry, in Caracas.
RELATED:
Venezuelan President Renews Calls for Regional Integration Amid Diplomatic Attacks
According to Maduro, right-wing governments are persecuting Venezuela, "but they won't be able to defeat us… Venezuelan democracy is with the people and the Bolivarian Revolution is with the people."
The meeting was an attempt to strengthen "diplomatic relations and bonds of friendship, respect and cooperation, to encourage the projection of a common development among nations."
In attendance were former Honduran President Manuel Zelaya, former Ecuadorean Foreign Affairs Minister Ricardo Patiño, and President of the Brazilian Workers Party (PT) Gleisi Hoffmann, among others.
Zelaya said the delegates present at Maduro's swearing-in ceremony were there to recognize him as the democratically elected president of Venezuela.
#ÚLTIMOMINUTO Presidente de Venezuela @NicolasMaduro se reúne con movimientos sociales internacionales http://bit.ly/teleSUR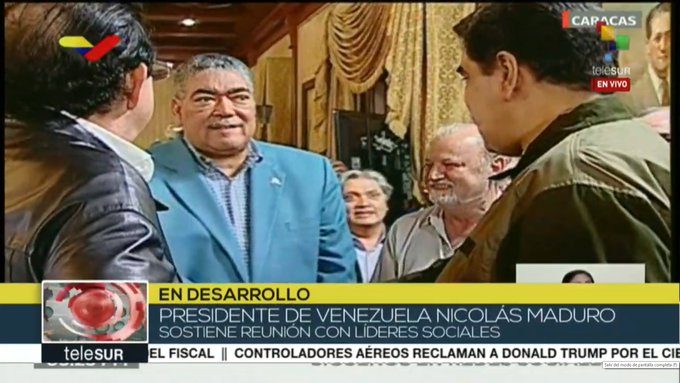 #ENVIVO @NicolasMaduro a movimientos sociales del mundo: Hay una Venezuela de verdad, de un pueblo noble, digno y feliz, está en las calles, ustedes pueden comprobarlo http://bit.ly/teleSUR pic.twitter.com/ojLZhOWMAe1713:28 – 11 ene. 2019Información y privacidad de Twitter Ads23 personas están hablando de esto"Nicolas Maduro to social movements of the world: There is a real Venezuela, of a noble, dignified and happy people; it is in the streets, you can check it."
Maduro said: "We are here because we are real, which is what the intolerant right of Latin America and the world does not want to recognize.
"The people responsible for the attack of August 4 are in Colombia and the Colombian government protects them, they do not want to deliver them, they support terrorism."
Hoffmann showed concern over the international policies undertaken by the new far-right Brazilian President Jair Bolsonaro, and the plight of former President Luiz Inacio Lula da Silva, who has been wrongly imprisoned for over nine months.
She also extended Lula's solidarity to the Venezuelan people and government, adding that elections last May were held "maintaining the constitutional precepts of Venezuela."
Maduro concluded: "It is the governments of economic intolerance, of ideological persecution that lash out against Venezuela, persecute it in a dictatorial manner as a dictatorship pursues groups of social fighters."
Tags