Cabello ensured the support for the Bolivarian and Chavista revolution, "this country will always be loyal to Chavez! "
Feb 20 (teleSUR) Diosdado Cabello, president of the Venezuelan National Constituent Assembly (ANC) headed a new episode of the massive March for Peace that filled the streets of Ciudad Bolivar, in the Bolivar state that borders with Brasil and Guyana.
RELATED:
Facts Refuting Claims of 'Humanitarian Crisis' in Venezuela
"Venezuela is a country of warriors that will stand against anybody," stated Cabello, form the Angostura Bridge on the border with Brazil. The Chavista leader called upon the Bolivarian people to defend the homeland against the foreign attacks that Venezuela is living.
Cabello, who is also the first Vice President of the United Socialist Party of Venezuela (PSUV), denounced that "what is behind the alleged 'humanitarian aid' is a big business," that is being led by the Venezuelan right-wing for their own profit.
In this massive mobilization, tens of thousands gathered to defend peace and to reject the interventionist intentions in which the United States and its allies are backing a coup d'etat. The Bolivar state is a geopolitical strategic territory in Venezuela because it borders with Guyana and with Brazil.Ver imagen en Twitter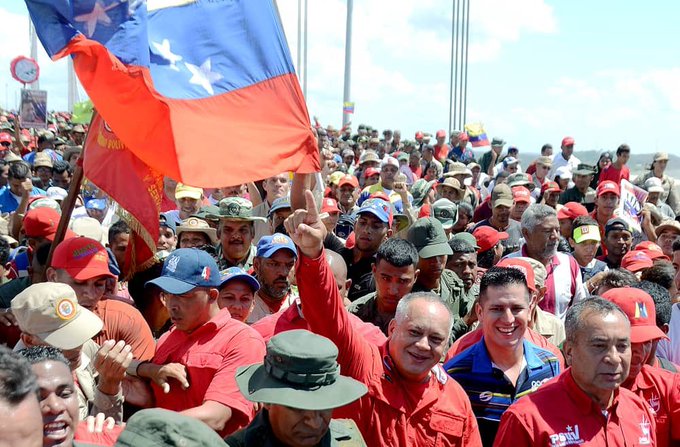 teleSUR English@telesurenglish
Venezuela's @dcabellor leading a mass Chavista march right now at the Angostura bridge.

The day commemorates the congress where Bolivar gave birth to "Gran Colombia", a project of Latin American unity.1513:28 – 20 feb. 2019Ver los otros Tweets de teleSUR EnglishInformación y privacidad de Twitter Ads
The Bolivar state could be an entry point in which the opposition members could try to enter the alleged "humanitarian aid," sent by the U.S. and managed by right-wing forces in Venezuela.
However, Diosdado Cabello highlighted that the 70 tones of "humanitarian aid," can't be compared with the over six million families that are beneficiaries of the Local Committees of Supply and Production (Clap), provided by the Bolivarian government.
Also on Wednesday morning, another concentration happened in Caracas, the capital of Venezuela, in support of democratically elected President Nicolas Maduro by workers in the transport sector. In parallel, the opposition made a mobilization in surrounding streets.
Cabello ensured the support for the Bolivarian and Chavista revolution and stated that "the right assumes that they will arrive (to power). They believe that the patriots are going to run away, they think they are going to rule. This country will always be loyal to Chavez! "