The foreign affairs minister met UN Secretary-General Antonio Guterres to discuss 2030 agenda development goals and to denounce interventionism.
Jan 15 (teleSUR) The Venezuelan Foreign Affairs Minister Jorge Arreaza met on Wednesday with Antonio Guterres Secretary-General of the United Nations (UN) for an important bilateral meeting.
RELATED:
Venezuela Rejects US Attempted Coup and 'Puppet Government'
Minister Arreaza thanked the UN secretary-general for "the cordial, respectful and warm meeting held minutes ago in his office in NY," he wrote on his Twitter account, before reaffirming "the irreducible commitment of President Nicolas Maduro with peace, multilateralism and the 2030 Agenda." The meeting was held to strengthen relations between Venezuela and the UN mainly in the Sustainable Development Goals (SDG) of the 2030 Agenda.
"If we achieve the objectives of the 2030 Agenda, we will achieve a more equitable society, it is essential to strengthen multilateralism," said Arreaza in the press conference after meeting the UN Secretary-General.
The Foreign Ministry of Venezuela stated on its Twitter account that the meeting was also favorable to denounce the assaults and attacks perpetrated against the South American country. The agency indicated that Arreaza presented to Guterres the interference actions committed by "the United States (U.S.) Government against the sovereignty of Venezuela."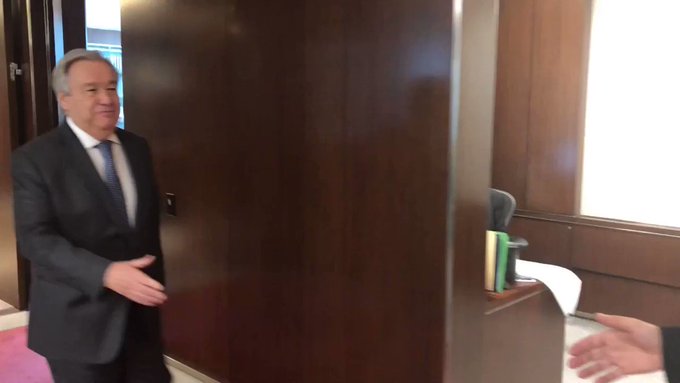 #AHORA desde la sede de la Organización de Naciones Unidas, en Nueva York, el canciller Jorge Arreaza es recibido por Antonio Guterres, secretario general de la #ONU para sostener un importante encuentro bilateral51710:42 – 16 ene. 2019856 personas están hablando de estoInformación y privacidad de Twitter Ads"#NOW from the headquarters of the United Nations Organization, in New York, Chancellor Jorge Arreaza is received by Antonio Guterres, Secretary General of the #UN to hold an important bilateral meeting."
In a press conference after the meeting, Arreaza stated that he had denounced before Antonio Guterres, a new coup attempt against the Government of Nicolás Maduro. "We have reported to the secretary-general that an attempted coup against Venezuela is underway (…) We have already gone through experiences such as the 2002 coup d'état and the oil strike, that same year," he said.
Earlier on Wednesday Minister Arreaza responded the interventionist acts of the U.S. Secretary of State Mike Pompeo, in relation to the policy Venezuela, promoting a coup against the Bolivarian Government. "Mike Pompeo not satisfied with leading a criminal economic blockade and an operation of international aggression against Venezuela, now shamelessly promotes a coup, citing articles of a Constitution that he obviously does not know," said the Venezuelan foreign minister through his Twitter account to a tweet released by Pompeo.
"While President Nicolas Maduro seeks a respectful dialogue with the U.S., the U.S. Secretary of State and other extremist spokespersons seek to destabilize the country and incite violence," said the Venezuelan official, who also recalled that the Venezuelan people demand respect for its democracy, its sovereignty and its Constitution.
Tags