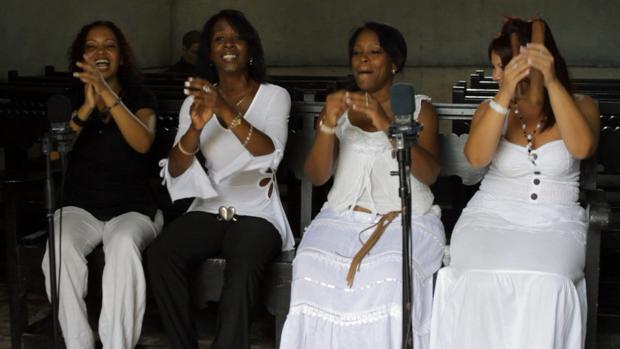 February might be called the final-slog-through month. These 28 days of late winter sometimes feel like the last 45 minutes of an eight-hour drive. Everyone is cranky. The car is beginning to smell a bit. The miles can't tick past fast enough.
Sometimes having a good distraction can help hustle along the transition from the dark to the light. And I mean more than perusing your favorite seed catalog or planning your spring cleaning. The best diversions speak to your soul, muster your emotions, and, if you are lucky, can involve travel.
One suggestion with a local link is a trip to the Richmond International Film Festival to enjoy a short documentary co-produced by Joseph Scarpaci, executive director of the Center for the Study of Cuban Culture and Economy. "Soy Cubana" premiered at the Santa Barbara International Film Festival last February and it has garnered critical and popular attention since then.
The subject of the film is an a cappella group from Santiago de Cuba, the second largest city in Cuba. The Vocal Vidas consists of four talented women with a passion for music.
The documentary presents information about the group's motivations as well as footage of performances. Historical context is juxtaposed with intimate glimpses into the personal drives and lives of the four singers along with a taste of their sound.
Santiago has a long musical tradition, according to an interview with the president of the Santiago Artists Association. The film emerged from one of Scarpaci's tours to Santiago, a memorable justification for travel.
"I've been to Cuba 80 times since 1991," Scarpaci explained. He holds a Ph.D. in Economic Geography. He has also worked as a professor in marketing and international studies. After retiring from teaching, Scarpaci took his professional credentials and personal passions to create a job that just about anyone would envy.
He founded the Blacksburg-based Center for the Study of Cuban Culture and Economy in 2011. As described on the website: "The Center draws on award-winning scholarly research to examine contemporary cultural and economic topics. Our programs provide meaningful engagement with the people of Cuba as stipulated by Office of Foreign Assets Control of the United States Treasury. Unlike other organizations, we provide you with more than just a tour guide. Our docent-led trips engage, enlighten, and enliven."
These trips have brought more than 800 Americans to the island nation. Some travel with a very personal agenda: They lived or have family who lived in Cuba. "Seeing them knock on the doors and telling the people this is where they lived at one time makes for memorable experiences," said Scarpaci.
But one of the most propitious visits brought Scarpaci and a group to a 16th century chapel in the El Morro fortress where they found the four women performing.
"When you see something that jumps out at you, you really take notice," described Scarpaci. "We stumbled across them. They like singing there because of the acoustics. People pulled out their iPhones and started recording."
Robin Miller Ungar, a speech pathologist from Los Angeles who was in Cuba with a group from the Archaeological Institute of America, was with Scarpaci's tour that day. She captured four songs on her phone.
"We all were incredibly moved," Ungar emailed regarding her first encounter with the Vocal Vidas. "I thought that it was pure joy and something that certainly needed to be shared."
Ungar's son and husband work in the film industry. A simple phone video convinced both to gather partners and resources for a documentary on the Vocal Vidas. The team corresponded with the quartet via email and phone.
Scarpaci played a key role in taking the project from plan to film.
"Joe was onboard as our co-producer and had the license, the language skills and relationships in Cuba to take us in as a four-person team," Ungar explained.
This second trip involved six days of intensive filming and interviews, with most spent in Santiago de Cuba and a day in Havana. From Ungar: "We returned mid-June 2015 and by late August I had found a wonderful bilingual editor, Augustin Rexach. We worked on weekends, usually editing once a week until completion in January 2016."
Ungar's "pure joy" in the quartet resonates throughout the film and explains its success to date. As she noted: "In a world where many documentaries focus on the tragedies of life, 'Soy Cubana' seems to be bringing much happiness to the audiences who have seen it. We are met with so much love and enthusiasm that it's really quite remarkable!"
Likewise, for Scarpaci, the film does more than show off the notable talents of these four Cuban artists. "We wanted to document the lives of talented working women as members of the community, as heads of households, as cooks, as parents," he explained. "Artists everywhere are underpaid. And they do their best to continue their art and trying to survive."
He also takes pride in the opportunity to put the music and its distinctive texture first and foremost. He noted via email after we talked: "Artists often have their music appropriated and modified, and this has plusses and minuses. But Vocal Vidas is so authentic. That offers resistance to cultural globalization; it is hard to copy their style. And the listener senses that. No remix. Just unadulterated son, guajiro, jazz, gospel and spirituals." (Ed. Note: "Son" – Spanish for "rhythm" – and "guajiro" translate as the sacred country music of Cuban peasant farmers.)
Still, Scarpaci contends, the sheer beauty of the music reaches people from all cultures: "There are now cruise ships coming into Santiago. In every group, people weep when they hear some of the old Negro spirituals sung by these women. It's so powerful."
"Soy Cubana" has struck critical chords as well. It has been screened at more than 30 film events and received eight awards, including Best Documentary Short Film at the Chicago International Movies and Music Festival, and a handful of audience awards.
These accolades make a trip to Richmond for the festival a worthwhile pursuit. And possibly great medicine for the February dulls. Scarpaci offered me a preview of the film and the street scenes themselves along with the delicious harmonies buoyed my spirits in a big way.
The team hopes to work "Soy Cubana" into a full-length feature as well as bring the Vocal Vidas to the U.S. for performances. But until this happens, the Richmond International Film Festival is Feb. 27 through March 5. "Soy Cubana" competes in the Short Film category, which runs Thursday, March 2, at the Byrd Theatre. Details and ticket information are at rvafilmfestival.com. Pour yourself a mojito and enjoy a taste of the work at soycubanamovie.com.
Catherine Van Noy, The Roanoke Times
February 10, 2017