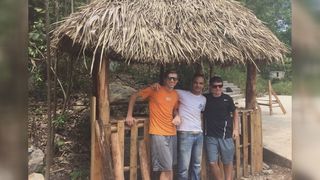 It's been just over one year since the U.S. restored its diplomatic ties with Cuba.
Since then, loosened travel restrictions have paved the way for University of Tennessee students to study abroad in the Caribbean country.
In May, Meghan Treece traveled with the first group of UT engineering students to make the trip in decades.
"This is the chance of a lifetime," she said.
Third-year engineering student Reed Schneider was also a part of that group. Students explored the country's history and culture, from its tobacco farms and rural mountains to its unique architecture.
"Old Havana was one of the most beautiful cities I've ever seen," Schneider said. "But then at the same time there's also a sense of decay, and you could see that as well."
Among their many service projects, students also helped build a cabana – forcing them to put their engineering skills to the test.
"It was really different because when you're working on a project [in America], you've got all the resources you reasonably would need," Schneider said. "In Cuba, that's not the reality. You have to use what you can find and improvise."
His group wasn't the first team of UT student to visit the communist country. A different team of business students took the trip in December.
ALSO SEE: Cuba relationship impacts UT business students
The new wave of travel comes as President Obama praised the two countries' growing relationship at his Democratic National Convention speech Thursday.
"Things are going to change, drastically probably, and hopefully in a way that the Cuban people want them to change," Treece said.
In the spring, George Drinnon, director of undergraduate programs at UT's Haslam College of Business told 10News he wants to take students back to Havana later in December.
Both Treece and Schneider are encouraging UT students to take advantage of the emerging study abroad opportunities.
"It was a great experience," Treece said.
Source: WBIR.com