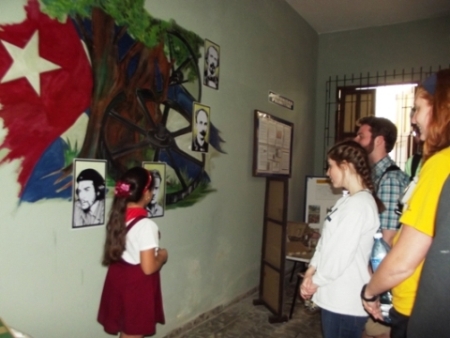 Camaguey, Cuba, Jan 12.- A group of American university professors and students had a loving exchange at Josué País García elementary school in the city of Camagüey Interested in knowing Cuban reality, especially its educational system.
The pioneers themselves were in charge of providing the visitors with all the necessary information about Cuba, through a pleasant tour of the center's history room and the presentation of a brief and emotional artistic show with songs and poems that was acclaimed by the US group.
Professor Genny Ballard explained that they are 31 students of Spanish and Economics from one of the universities of Kentucky who come to discover Cuba, its way of life, culture, music and people, who are very warm and open.
The Cuban educational system, she said, is known worldwide for its good results. That is why for our students it has been important to visit one of its schools, since many of them, once graduated, will also work as teachers and they were very impressed with what they saw.
The members of the US delegation became interested, among other things, in the services offered by the school, free of charge, teacher training variants and the perspective for future studies of Cuban children.
I already want to come back and I am not yet gone," said Emmely Ovalle Pérez, who added that on her first visit to Cuba she has felt like at home, because I like its culture and food, the people are friendly and communicative. I'm really enjoying my stay here, she noted. (acn) (Photos: Miozotis Fabelo Pinares)
Radio Cadena Agramonte, January 12, 2017