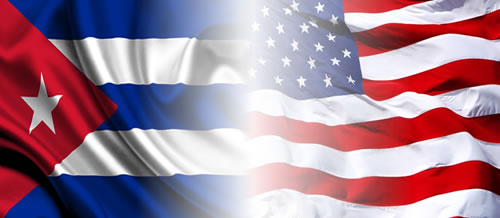 Washington, 22 Jun.- Traveling to Cuba for tourism continues to be banned in the United States. Getting there for approved purposes remains needlessly difficult and expensive according to a New York Times Editorial.
The ban, the only travel prohibition American citizens are currently subjected to, never made sense, and it's particularly misguided in an era of broadening engagement between the United States and Cuba.
A bill introduced early this year by a bipartisan group of senators who want to repeal the travel ban is the most worthy of the flurry of legislative initiatives sparked by President Obama's decision last December to re-establish diplomatic relations with Havana.
The bill would rescind provisions in laws passed in 1996 and 2000 that barred travel by Americans as part of a strategy to punish and isolate Cuba in hopes of bringing about democratic change in that country. The freer flow of people, goods and ideas is far more likely to lead to meaningful reforms on the island.
The bill, introduced by Senators Jeff Flake, a Republican from Arizona, and Patrick Leahy, a Democrat from Vermont, has 43 co-sponsors. New York's Senators, Kirsten Gillibrand and Charles Schumer, have not yet signed on, but their offices said on Saturday that they would both do so next week. On the other side of this issue, a loud, but dwindling, cadre of lawmakers, who appear unwilling to let the Cold War era go, are pushing initiatives that would prolong, and in some instances intensify, the web of sanctions the United States imposes on Cuba.
Some, for instance, have introduced provisions in bills that would restrict the State Department from spending any money to upgrade its old diplomatic mission building in Cuba as the two countries formally re-establish full diplomatic relations.
In coming weeks, Senate and House lawmakers will have to reconcile their visions of Cuba policy as they negotiate the annual foreign aid bill. The House has set aside $30 million for pro-democracy programs, $10 million more than the Obama administration requested. That's unwise according to the NYT.
Since 2009, the State Department has managed to spend just $66.5 million of the more than $114 million Congress has set aside for those programs. Washington has struggled to spend the money because American pro-democracy programs that seek to encourage democratic reforms are unlawful in Cuba, and some have involved subterfuge.
Sanctions that remain in place limit banking transactions, making it enormously hard for Cubans to do business with the international community.
The trajectory is unmistakable. Public opinion polls show that a majority of Cubans on the island and Americans favor engagement. Congress should wait no longer to do its part.
Also the Cuban American for Engagement Group that supports the improvement of relations between both countries plans to continue their lobby in Washington called the Cuban Consultation.(Prensa Latina)
Radio Cadena Agramonte, June 22, 2015