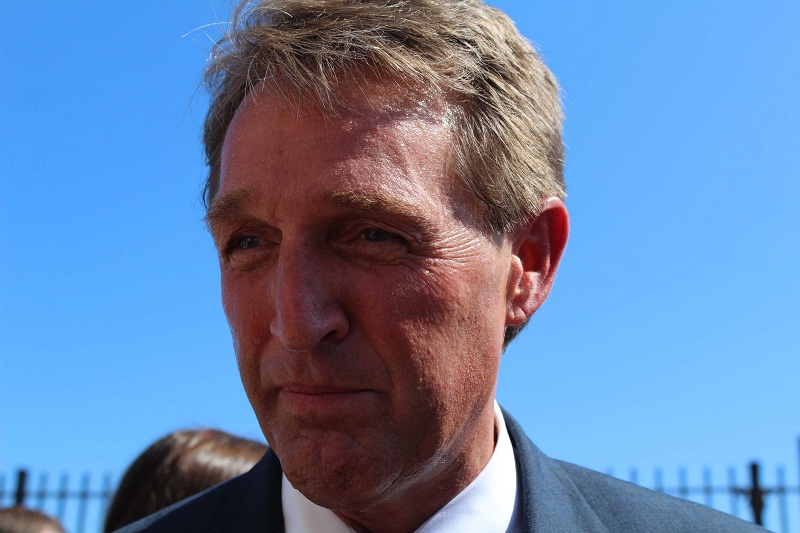 Senator Flake has co-sponsored draft proposals that would contribute to cooperation and free travel to Cuba.
June 5 (Radio Rebelde) Republican Senator Jeff Flake highlighted on Monday in Havana that traveling to Cuba is safe in a clear message for those that have wanted to impede US travelers to visit the Caribbean island.
The Senator for the state of Arizona, since 2013 told the national and foreign press at the Melia Cohiba Hotel that he pretends for the people in the US to know that it is safe to travel to Cuba.
Regulations have changed, referring to the restrictions imposed by the Donald Trump Administration in 2017, but "there are a variety of options for people from the US to travel to Cuba", he said.
"Many continue to travel, but others do not –due to the travel warnings issued by Washington against Cuba-, I want them to receive the message that it is safe to travel to the island," said Flake.
One million 173 thousand 428 people from the US traveled to Cuba in 2017 for an increase of 191 percent compared to those that visited the island in 2016 and of these, 619 thousand 523 were US citizens and the rest Cuban Americans.
The increase reported in 2017 was made a reality despite the restrictions imposed by Washington to US citizens who cannot visit Cuba as tourists or freely travel to the island because of the economic, commercial and financial blockade against Cuba for over 50 years.
The US legislator was welcomed Monday by President Miguel Diaz-Canel who discussed bilateral relations and was accompanied by the Executive President of Google, Eric Emerson Schmidt.
Senator Flake has co-sponsored draft proposals that would contribute to cooperation and free travel to Cuba.
We have taken some steps backwards, he confessed, referring to Trump's position regarding Cuba, but we are hopeful in moving forward in order to return to the model of relations that was achieved during the Barack Obama administration which signed over 20 memorandum of understandings with Havana.
Senator Jeff Flake expressed being happy to return to Cuba where he has traveled on a number of occasions and is anxious for Americans to increase their travel to Cuba and exchange with the people on the island.
He said that during the exchange with the Cuban Head of State he observed that there are two people that speak different languages but at the same time exchanged as engineers, referring to Diaz-Canel and Emerson Schmidt, Executive President of Google.
Referring to the recent agreement between Cuban and US Postal Services for direct mail exchanges on regular flights, Flake confirmed that it is good news and should be taken as an example for new understandings.
The meeting between the Cuban President of the Council of State and Ministers and the delegation headed by Senator Jeff Flake is the first since Diaz-Canel took office last April 19th.
During the exchange, both spoke of bilateral relations in addition to possible areas of cooperation of mutual interest. The Business Attaché of the US embassy in Havana, Phillip Goldberg, accompanied the delegation.
By Jorge Leganoa Alonso