The conference will foster a platform for respectful negotiations between Venezuela and its opposition.
Feb 6 (teleSUR) The agenda for the "Montevideo Mechanism" being held in Uruguay on Thursday will be a four part process, foreign ministers said Wednesday.
RELATED:

Bolivia, Mexico to Join International Contact Group in Uruguay
International delegates were directed to a press conference lead by Uruguayan Foreign Minister Rodolfo Nin Novoa and Mexican Foreign Minister Marcelo Ebrard where they presented a brief outline of the meeting.
Held in hopes to mediate the domestic turmoil between Venezuelan opposition forces and the legitimate Nicolas Maduro administration, the conference will be broken into four segments, the foreign ministers said.
The first mode of action will be to map out the conditions to encourage the two parties to dialogue. Following this, negotiations will ensue, with the international delegation assisting the two Venezuelan sides debate their demands, concessions, and the results of the initial talk. The third step will be to commit to these agreements and, finally, implement the changes into government policy.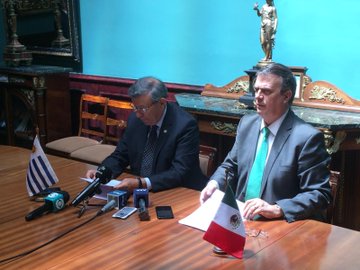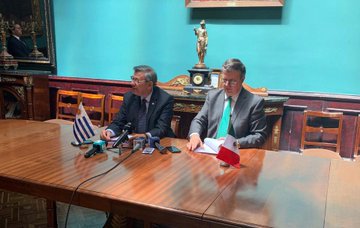 Gobiernos de México, Uruguay, y @CARICOMorg, en atención al llamado del secretario General de la #ONU, @antonioguterres, coinciden en que la única vía para abordar la situación en Venezuela es el diálogo para la negociación, desde el respeto al derecho internacional y los #DDHH.12111:08 AM – Feb 6, 2019105 people are talking about thisTwitter Ads info and privacy
"Governments of Mexico, Uruguay, and @CARICOMorg, in attention to the call of the Secretary-General of the #ONU, @antonioguterres agree that the only way to address the situation in Venezuela is the dialogue for negotiation, out of respect for international law and the #DDHH."
In a Twitter statement, the Mexican Foreign Ministry said, "This initiative is made available to Venezuelan actors as a peaceful and democratic alternative that privileges dialogue and peace, to foster the necessary conditions for a comprehensive, comprehensive and lasting solution.
"This mechanism is testimony to an active, proactive and conciliatory diplomacy to bring the disputing parties closer, and subscribes to the principles of non-intervention, the legal equality of States, the peaceful settlement of disputes, respect for human rights, and the self-determination of peoples," the statement said.
"Similarly, we reiterate our decision to help restore the tranquility of the Venezuelan people, through dialogue and peace, to reduce tensions between political forces and avoid the threat or use of force," the minsitry said.
Both Mexico and Uruguay have shown solidarity with Venezuela and Maduro after a coup was attempted on Jan. 23 by Juan Guaido, an opposition lawmaker and the self-proclaimed "interim president" and the United States reiterated its threats of militarized intervention once again.
They will overseeing the talk which will be attended by various Caribbean and South American representatives as well as members of the European Union associated with the International Contact Group, namely Italy, Portugal, Spain, Sweden, Costa Rica, Bolivia, and Ecuador.
Tags