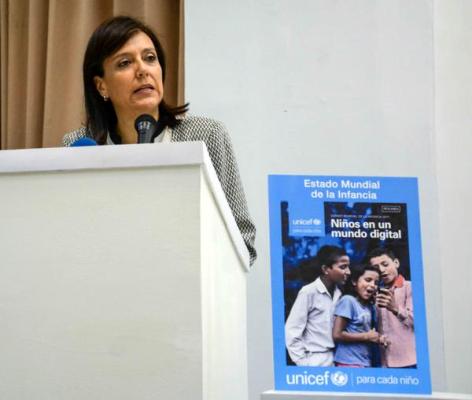 Havana, Feb 21 (Radio Cadena Agramonte) –  A UNICEF report regarding the digital era recognized the advances in Cuba in the computerization of society and its contribution in anticipating to opportunities in the field and a reduction in the risks that affect the new generations.
The UNICEF representative to Cuba, Maria Machicado said on Tuesday while presenting the State of the World's Children for 2017 in Havana that while the relations of children with new technologies vary, patterns and conducts associated with the first stage of life is modified.
The publication includes the issue of children in the digital era and urges for actions and investment to protect them from the dangers to a world interconnected in Internet.
Machicado highlighted that one out of three users in Internet are children stressing that many times they start at a younger age.
She added that Internet connection is becoming more private thanks to the mobile pieces and also with less supervision and training.
The UNICEF representative in Cuba emphasized the existence of good practices regarding the use of TICS, but it is also true that its availability in the world generates digital inequality.
Before such reality, she mentioned the recommendations presented in the report which summarizes guaranteeing equal access; protect children from the damages of law application; fight sexual exploitation online; save the privacy and identity of the children; digital literacy; and include the minors at the center of the digital policies.
Machicado concluded with a recognition to Cuba's support, especially for the advances of society regarding the computerization process and the possibilities of reducing risks thanks to the experiences in other countries.
Deputy Communications Minister Wilferdo Gonzalez told the press recently that there is is no limitation from the political point of view for Internet access for the population and a commitment of the country to continue advancing in the process.
He added that there are over 650 navigation centers, some 500 Wi-Fi zones, the access of Internet access in Cuban homes are increasing and the creation of digital contacts are found in over 600 Young Computer and Electronic Clubs across the island and products like Mochila, Estanquillo, Reflejos blogs platform and the Ecured Colaborative Encyclopedia. (ACN)