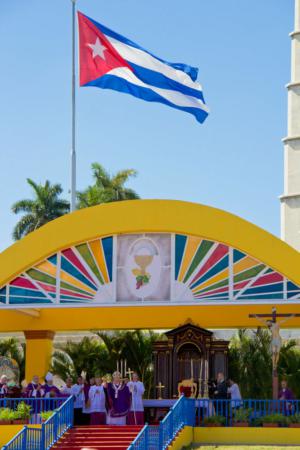 A group of about 135 Catholics from the Archdiocese of Boston will be among the hundreds of thousands who will greet Pope Francis when the pontiff visits Cuba in mid-September.
"It should be just an amazing experience," said Robert Mahoney, president and chief executive officer of Belmont Savings Bank who is helping to organize the trip to the island nation.
Mahoney, who is also a member of the Archdiocesan Finance Council, said the group will attend the Mass that Pope Francis will celebrate Sept. 20 in Havana's Revolution Square. They will also sightsee Old Havana, attend local musical performances and visit the Caritas Cubana mission at Iglesia San Agustin, where a previous delegation from Boston donated a new kitchen.
The new Boston delegation will be traveling to Cuba in a time of monumental change as the United States normalizes its relationship with Cuba after more than 50 years of isolating the Communist island nation. On July 20, both countries restored diplomatic relationships and reopened embassies in each other's capital cities.
"It's just an amazing experience, getting to go to Cuba while Cuba is still Cuba," Mahoney said in reference to the changes the island nation — where 1950s American automobiles are still ubiquitous — is expected to undergo as it opens itself to American investment and tourism.
The United States' embargo on Cuba that President John F. Kennedy instituted in February 1962 is still in place since only Congress can lift it. U.S. law also still restricts travel to Cuba, with exemptions for those visiting the island for religious, humanitarian, educational or official government reasons.
Mahoney said there is a possibility the Boston delegation could be on the first direct flight from Logan Airport to Havana when they leave on Sept. 18.
"That would be pretty cool," said Mahoney, who has visited Cuba twice. He was there when Pope St. John Paul II traveled to Cuba in January 1998, and again when Pope Benedict XVI visited the island nation in March 2012.
Mahoney recalled the 1998 papal trip as "remarkable" since it marked the first time since Fidel Castro took power in 1959 that a Mass was allowed to be celebrated in public.
"This is a country that is 80 to 90 percent Catholic, and they weren't able to celebrate Mass in public in 40 years," said Mahoney, who added that there was hope among local Catholics that John Paul II's visit would prompt Castro's government to ease restrictions on the Church.
"There were some freedoms, but not as much as people had hoped," Mahoney said.
Castro's successor, his brother Raul, is said to be well-disposed toward Pope Francis, an Argentinian who is the first pope from the Americas.
Pope Francis will visit Cuba Sept. 19-22 for his tenth trip abroad since becoming pope in 2013. He will meet with President Raul Castro, as well as local religious and families, in addition to celebrating Mass in Revolution Square, a huge space that Mahoney compared to "four Boston City Hall Plazas."
"There will be well over a million people," Mahoney said.
Pope Francis will visit the popular Shrine of Our Lady of Charity of El Cobre, the patroness of the Cuban people. He is also scheduled to travel to the cities of Santiago de Cuba and Holguin, which he will bless from a panoramic hilltop and pilgrimage site known as Cross Hill.
The pope will then visit the United States for a five-day visit, Sept. 22-27, which includes attending the World Meeting of Families in Philadelphia, meeting with President Barack Obama in the White House and giving the first papal address to a joint session of Congress.
Pope Francis and the Vatican played a key role in engineering talks between Cuba and the United States. The pope wrote letters to the presidents of both countries and tasked the archbishop of Havana to act as an intermediary.
"These papal visits have impacts," Mahoney said. "I just don't know how much of America's attitude toward Cuba has changed because of the pope."
Cardinal Seán O'Malley will also be in as part of the U.S. Conference of Catholic Bishops' delegation to the papal visit. Mahoney added that the Boston delegation is not part of an official archdiocesan event.
"It's more of a Catholic get-together," Mahoney said.
The Boston group's itinerary includes a sightseeing trip to Old Havana, a UNESCO World Heritage site, on Sept. 19, followed by lunch at a picturesque restaurant overlooking the Bay of Havana. Later that day, they attend a private rehearsal of a contemporary Cuban dance company before enjoying dinner and a musical performance at a restaurant.
The group will have a free afternoon after the papal Mass to reflect on the experience. The next day, they will visit the Caritas Cubana mission before having lunch and visiting historic sites, including the legendary Hotel Nacional and Moro Castle in Havana.
The group returns to Boston on Sept. 22.
Mahoney said there are still about three-dozen available slots for the trip, which costs $4,500 per person, or $8,000 per couple. That includes airfare, rooms, tourist activities and meals.
"It's an amazing opportunity," Mahoney said.
For more information, contact Donis Tracy, Educational Travel Alliance, Inc. (www.ETAcuba.com), at 617-610-3776 or [email protected]
By Brian Fraga, The Pilot
July 24, 2015