In anticipation of the national premiere of WTTW's new special and website, Weekend in Havana with Geoffrey Baer, we thought we would provide a quick overview of Cuba's mouthwatering cuisine, which goes perfectly with a generous side of salsa music, a refreshing cocktail, and (of course) a good cigar.
Cuba, just 90 miles off the coast of Florida, incorporates a wide variety of disparate influences in its cuisine – everything from Africa, the Caribbean, Spain (including the Canary Islands), France, the Native Americans, and even China (yes, Havana boasts its own Chinatown). Cuba's sultry tropical climate and island location are powerful influences on the food as well, of course, which includes unique-to-the-region vegetables and fruits, as well as locally sourced seafood such as lobster, sea bass, and tilapia. The country and its culinary scene, it should be said, continue to evolve as more and more of the outside world enters its vibrant and colorful sphere.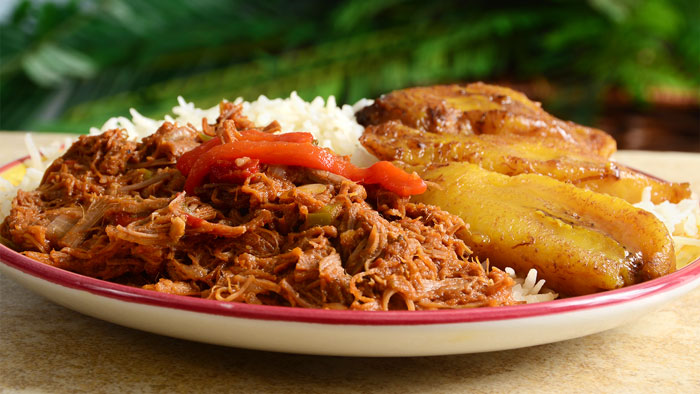 Havana, you will find, is populated with numerous small, family-run restaurants called paladares, many of which are operated out of what were once private homes. Each is unique, and they are a great way dine in intimate settings while supporting local Cuban businesses at the same time.
What is a typical Cuban meal?  An essential component in most is Moros y Cristianos (translation: Moors and Christians), or black beans and rice. Black beans are also commonly used in soup – each region of Cuba has its own unique way of preparing it, and all are delicious.
A popular main dish is Ropa Vieja – its name in Spanish translates to "old clothes" due to its "tattered" appearance – it's made from shredded and tenderized beef (often flank steak) and served with a tomato-based sauce.
Sauces, by the way, are a regular accompaniment to Cuban meat dishes. One of the best known is Mojo or Mojito sauce (not to be confused with the cocktail of the same name) from the Canary Islands. It incorporates garlic, onions, oil, bay leaf, and spiced with anything from oregano to bitter orange to lime.
Sandwiches (or "mixtos") are a very popular lunch staple. A typical Cuban sandwich is made with Serrano ham, roast pork, Swiss cheese, sliced pickles, and yellow mustard, served on sparsely buttered Cuban bread, which is a close cousin to the French baguette in appearance and texture, and is rumored to have been created not in Cuba but by a Sicilian-born baker in Tampa, Florida.
Other typical sandwiches are the Medianoche (or Midnight) sandwich, like the Cuban variety except on egg bread and without ham, given that moniker because it is popular as a midnight snack; the Frita Cubana, reminiscent of the American hamburger, but with spicy chorizo sausage mixed in with the ground beef; and the Elena Ruz, named for a 1930s-era debutante who often had this sandwich specially prepared to order at a café after the theatre or the opera – it is composed of two slices of Cuban bread with a layer of fruit preserves on one slice and cream cheese on the other, with sliced turkey breast in between. (This sounds a bit like American Thanksgiving dinner.) Any of these might be served with fried sweet plantains.
For dessert, try Dulce de leche (a caramelized pudding made from milk, sugar, vanilla, and sometimes cinnamon which also makes a great base for cheesecake); Arroz con leche (Cuban rice pudding); Flan (a tasty firm custard that will be familiar to those who frequent Mexican restaurants); and pastries filled with guava (one of those tropical fruits readily available in Cuba); and of course, that ever-popular street snack, churros (long ridged tubes of fried dough with sweet fillings and dusted with sugar).
As you will learn in Weekend in Havana, the novelist Ernest Hemingway, a local resident, was a major aficionado of two Cuban cocktails that are all about rum: the Mojito and the Daiquiri. (Okay, three – the Piña Colada.) A typical Mojito is composed of white rum, lime juice, soda water, and sugar, and is garnished with fresh mint. A Daiquiri, the ideal hot weather drink, is made with similar ingredients (with syrup substituted for the sugar), but is prepared in a blender with crushed ice – it comes out roughly the consistency of a Slushie. Add your favorite fruit to the mix – strawberries, pineapples, raspberries, bananas, or coconut (which is actually a drupe) – and you have a refreshing treat to help you beat the Cuban heat.
Just so you know – once you've made (or ordered) your cocktails, you should always offer a toast with your left hand because, as jazz pianist Roberto Fonseca informs us in Weekend in Havana, your left hand "goes straight to the heart."
If you can't make it to Havana, you can raise a left-handed toast at such Chicago-area Cuban eateries reviewed on Check, Please! as 90 Miles Cuban Café and Paladar (both in Logan Square), Coobah (Lakeview), La Fonda (Edgewater), or Miramar (Highwood).
And join us on WTTW11 and wttw.com/weekendinhavana on July 18! ¡Salud!
Julia Maish, wttw Check, Please!
July 18, 2017