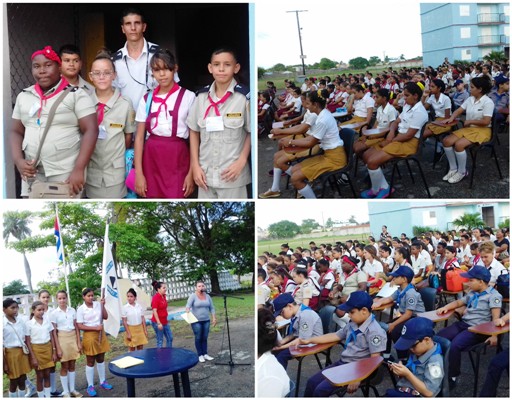 Camagüey, Oct 12.- Motivating in the new generations the study of educational profiles, technicians and others which contribute to local development, is the purpose of the meeting between teachers and students on vocational training and career guidance 2017-2018, inaugurated this Wednesday in the province.
At the end of the day, which hosted the Palace of Pioneers Camilo Cienfuegos, of this city, collaboration agreements were signed between the Directorate of Education in Camagüey, with agencies of production and services such as transportation, the Business Group of Trade and gastronomy, Construction, among others, which will enable the delivery of materials for the improvement and updating of the learners.
Methodologist Marvelis Parra Pardo, Junior High School in the Provincial Department of Education, stressed the importance of motivating learning, from primary education, the profile of future careers such as teaching, whose needs in the demarcation outweigh the thousand teachers.
One of the most important actions to achieve that purpose has to do with the work of the interest circles, who manage to systematize throughout the year actions directed to the vocational training of the school; and precisely in the current calendar will be presented the best experiences in the Central Palace of Pioneers Ernesto Che Guevara, appointment scheduled for next May, he added.
Toward the development of practical skills from the first ages and the promotion of knowledge of different specialties is oriented toward this course, in correspondence with the main labor demands of the territory. (Text and photos: Indira Lopez Karell/Radio Cadena Agramonte)