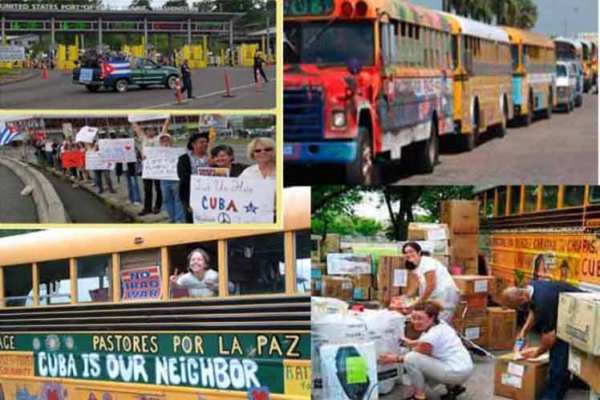 Santa Clara, Jul 17.- The US-Cuba Friendshipment Caravan-Pastors for Peace are currently visiting places of historic, cultural and social interests in Villa Clara where its members are exchanging with representative of political and grass roots organizations, workers and students.
The leader of the caravan and friend of Cuba, Gail Walker along with members of different regions in the United States told the press that the group once again ratifies its solidarity with the Cuban people and wants to transmit on behalf of the people in the US greetings, peace and friendship between both sides.
The caravan is made up by some that have visited Cuba several times with the caravan and new young members that are in Cuba for the first time and wanted to get a look at the country's reality and wanted to stretch out their fraternal ties and sympathy with the Revolution, feelings taught to them by Reverend Lucius Walker, she said.
Bill Hill, veteran of the Vietnam war told ACN that he feels great satisfaction to know how the Cuban people move forward with its political and social project despite the obstacles imposed by the US economic, financial and commercial blockade.
The members of Pastors for Peace was welcomed by the representative of the Institute of Friendship with the Peoples, ICAP, in Villa Clara, Iris Menendez who wished the caravanistas a happy visit in the province.  The solidarity activists will visit the Ernesto Che Guevara Monument and the armored train among other historic sites.
The activists will also tour Jibacoa in the mountainous municipality of Manicaragua and town of Placetas where they will meet with members of the communities and learn about the projects underway in the territory. (Eduardo Luis Martin/ACN)
Radio Cadena Agramonte, July 18, 2017