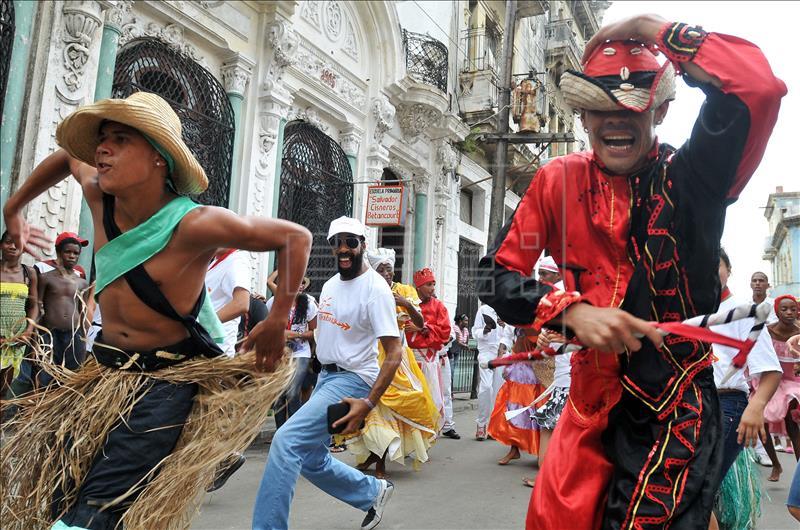 August 30 (Radio Rebelde) The Timbalaye International Festival of the Rumba Route celebrating its 10th edition since last August 17th in Cuba, was present on Wednesday in the Heredia Theater in the eastern city as part of its national tour.
The activities in Santiago de Cuba began on Tuesday with exchanges with Rumba groups like the Oriente Folkloric Ballet, Kokoye, the Cutumba Folkloric Ballet among others held at the Casa del Caribe.
Wednesday's session was dedicated to Rumba from an academic and participatory point of view, with a workshop offered at the Heredia Cultural Complex.
Ulises Mora, who presides the Festival alongside Irma Castillo, told the press that Santiago de Cuba is the main objective of Timbalaye.
All Rumba events as heritage is nourished from the contribution of other genres like the Tumba Francesa, also declared Oral and Immaterial World Heritage and whose heart beats in Santiago, said Mora.
Professional dancers interested in the genre and popular performers of Rumba were at the activities with the objective of enriching the event with their costumes and dancing styles maintaining the manifestation active in Cuban culture.
The Director of the Oriente Folkloric Ballet, Ernesto Arminan, said that Timbalaye is vital because it honors Rumba across the island and recognizes its diversity brining to Santiago de Cuba a little of history and different techniques of the island.
The festival will continue to Guantanamo and will conclude early September to the El Sauce Cultural Center in Havana.

(ACN)