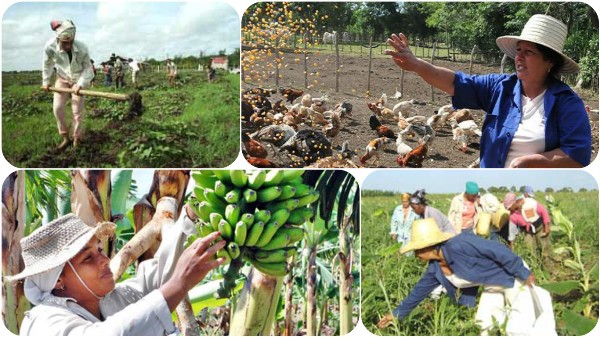 Camagüey, Sep 29. -More than six thousand women have joined the National Association of Small Farmers (ANAP) in Camagüey, and thus contribute significantly to the economy of the territory.
According to Aida Díaz Figueredo, president of the farming organization, rural women have advanced in their incorporation to the work which makes them owners, in addition, of their personal economy.
"By evaluating the joint work between our organization and the Federation of Cuban Women (FMC), we can say we have improved in every way. In fact, the operation of the FMC-ANAP brigades has allowed a greater integration at all levels, particularly in the behavior of women's statistics in management positions. For example, at the provincial level, from 12 professional cadres, seven are women, while there are 52 females in these tasks in the municipalities. "
According to Díaz Figueredo, the ANAP in Camagüey gives special attention to the link between the two organizations.
Díaz-Figueredo added that there is also an important social work done, because "there are many issues that concern women, especially with those women who are mothers, sisters and daughters of farmers, and who have no employment or student relationship.
He added, "We talked to them about the need for their incorporation into productive work to achieve gender equality and for their own personal well-being and fulfillment; and we also discuss gender-based violence, adolescent pregnancy, and above all what worries and occupies women."
In the words of the president of the ANAP in Camagüey, it is important and necessary for the society to value the contribution of rural women in the economy, because they are part of the agricultural labor force in parallel to their responsibility in domestic activities. (Mariela Peña Seguí/ Radio Cadena Agramonte) (Photo: Archivo)