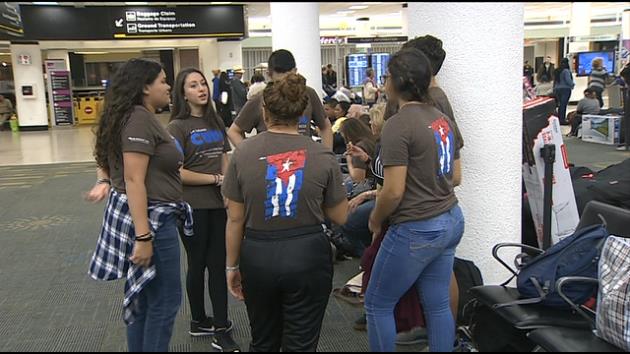 MIAMI INTERNATIONAL AIRPORT, Fla. (WSVN) — A group of South Florida students are heading to Havana as part of a historic trip with their school.
The school has already sponsored a number of trips to the island nation, but this journey is unlike any other.
This band of middle school students are excited about spending the week in Cuba. "I'm looking forward to going there and connecting with the people and sharing with them," said eighth grader Aaron.
They're going to the island with a mission. "We're going to be going to rehab centers. We're going to children's hospitals, and we're going to give doctors lab coats, and we're going to be giving the children gifts and coloring books and crayons," said eighth grader Krystal.
Along with all of their ministry duties, the children are also going to get a lesson in Cuba /U.S. relations like no other. "We've not been able to visit the Embassy because it was an intersection before and not an embassy, so that's one of my high points," said Principal Stacy Angier.
The students will be the first American school children to tour the United States Embassy in Havana since it reopened. "I'm really excited [about] the Embassy and go there and tour and see all of the new stuff they have there," Aaron said.
This will be the third time the school has sponsored trips to Cuba. The embassy tour will be a new experience for everyone who is participating. "There's always an educational thing 'cause this is my second year going," said eighth grader Madison. "Last year we went to the fort in Havana. This year we are going to the new embassy of America."
School officials said they pray both countries will continue working towards a better relationship and understanding of each other. "Cuba is one of our closest neighbors, and to be able to take the children down to work in the churches and to visit and find out about the culture is exciting to me," Angier said.
The students are due back from Cuba on Saturday.
See video here.
www.wsvn.com, February 2, 2016