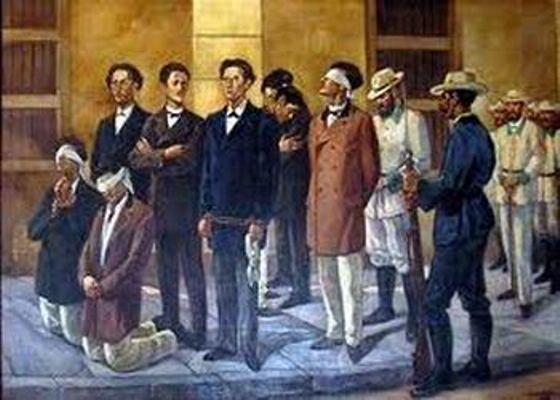 (Picture: File) Radio Cadena Agramonte| Nov 28, 1=2017 by Rolando Sarmiento Ricart The history written with ink and paper of colonialism Spanish in Cuba coined the facts and the punishment of eight students, shot by the alleged desecration of the tomb of Gonzalo Aguilar, director of the newspaper The Voice Of Cuba, idol of the Volunteer Corps of Havana; but the almost child and adolescent medical students were killed for attempting to shut down the longing for freedom of the youth of the island.
The thirst for example declared guilty and sentenced to death by Alonso Alvarez de la Campa and Gamba, 16 years of age, Anacleto Bermúdez and González de Piñera, Eladio Gonzalez Toledo, Carlos de la Torre Madrigal and José de Marcos Medina (20), Juan Pascual Rodríguez Pérez (21), Ángel Laborde Perera and Carlos Verdugo Martinez (17). The latter was in the province of Matanzas on the day of the alleged offense.
Earlier, on 10 October 1868 in if sugar mill La Demajagua, Carlos Manuel de Céspedes had freed their slaves and declared the start of the armed struggle for the independence of Cuba.
The 22 of January of 1868 occurred the bloody events of the theater Villanueva and Coffee The Louvre, also exponents of the repression to any expression of independence.