The South African Development Community issued a letter condeming actions by the United States and its allies against Venezuela.
Feb 10 (teleSUR) The South African Development Community (SADC), a group consisting of 15 African nations, issued a statement condemning the violation of international law in U.S. backed coup actions against Venezuela.
RELATED
In a letter dated Feb. 10, President of the Republic of Namibia and chairperson of SADC Hage Geingob noted the community's concern with "attempts by the leaders of some countries to interfere in the affairs and sovereignty of the Bolivarian Republic of Venezuela."
The letter relates to the Jan. 10 self-declaration of Juan Guaido, a hitherto unknown lawmaker in Venezuela's National Assembly in contempt since 2016, as interim president of Venezuela, and the subsequent recognition of him by the United States and some of its Latin American and European allies.
Since that event, United States President Donald Trump has made several threatening statements against the democratically-elected government of Venezuelan President Nicolas Maduro, saying that he won't rule out military intervention.
Meanwhile governments around the globe have called for dialogue in the country rather than aggression, and have supported Venezuela's right to self-determination.View image on Twitter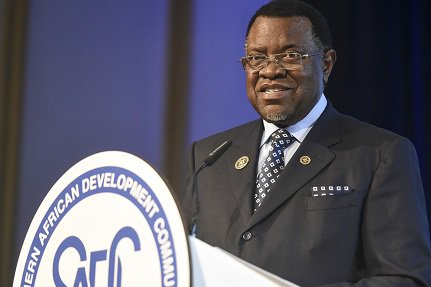 #SADC Chair H.E. @hagegeingob expresses solidarity with Venezuela & notes with concern attempts by leaders of some countries to interfere in Venezuela's affairs & sovereignty https://www.sadc.int/index.php?cID=2702 … @CyrilRamaphosa @EdgarCLungu @OfficialMasisi @edmnangagwa @DIRCO_ZA @sardcnet905:12 AM – Feb 10, 2019119 people are talking about thisTwitter Ads info and privacy
The SADC reiterated that sentiment, saying they "condemn such violations of the principles of International Law, especially, the respect for sovereignty and non-interference in the internal affairs of sovereign States."
The development group consists of 15 countries whose main goal is: "to achieve development, peace and security, and economic growth, to alleviate poverty, enhance the standard and quality of life of the peoples of Southern Africa, and support the socially disadvantaged through regional integration, built on democratic principles and equitable and sustainable development."
Among its members are: Angola, Botswana, Lesoto, Madagascar, Malawi, Mauritius, Mozambique, Namibia, the Democratic Republic of Congo, the Seychelles, South Africa, Swaziland, Tanzania, Zambia, and Zimbabwe.
Tags