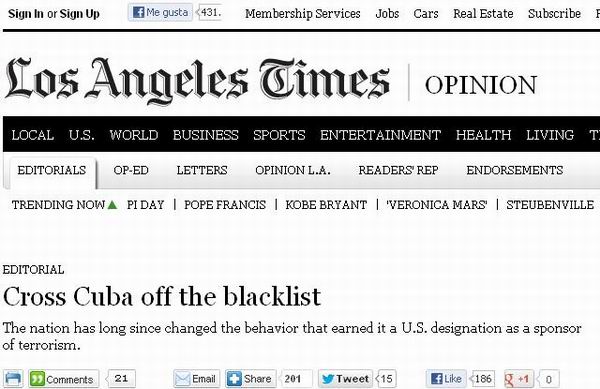 Washington, May 30.-The removal of Cuba from a U.S. list of nations that sponsor terrorism was among the most significant news in the United States this week.
Spokesman for the State Department, Jeff Rathke, said that the 45-day notification of Congress expired and Secretary of State John Kerry decided to remove Cuba from such a list. For its full implementation, the step must be published in the official U.S. journal Federal Register, though Rathke said it is in force.
According to the release, Cuba has not given support to international terrorism in the past six months and gave guarantees that it won't back any such act in the future.
Yesterday, The New York Times described the White House step as crucial, as it leaves behind the Cold War hostility that for many years characterized the relations between the United States and Cuba. Though the Cuban authorities did not raised this issue as a precondition to advance towards a resumption of links between the two nations, they reiterated that the Island should have never been in such a list in the first place, which they attributed to political motives.
This step is in line with pronouncements by Presidents Raul Castro and Barack Obama, who on Dec. 17 informed their decision to resume those links and open embassises in both capitals.
Sources from the Cuban Foreign Ministry have reiterated that the main hurdle to a normalization of USA-Cuba relations is still in force: the U.S. economic, commercial and financial blockade imposed on Cuba for over half a century, causing the Island billions of US dollars in losses.
Many U.S. legislators who have visited Cuba in the past few weeks agree in saying that there is bipartisan consensus in Congress for lifting the blockade.
But as Congress decides on the issue, Obama is in capacity to use its executive powers and, according to the Cuban Foreign Ministry, he can eliminate most of the restrictions of the blockade against Cuba. (Prensa Latina)
Radio Cadena Agramonte, May 30, 2015