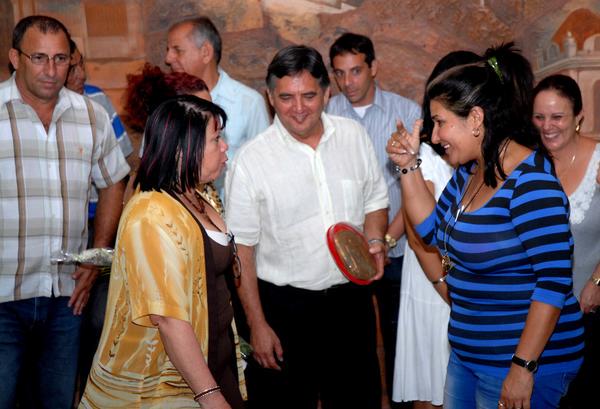 Camagüey, June 26 – For all efforts made in defending the tangible and intangible cultural heritage, the Provincial Government handed over the replica of Camaguey Province Coat-of-arms to the Office of the City Historian of Camagüey (OHCC) during a ceremony held at the Nicolas Guillen VIP lounge in this city's main square, Plaza de la Revolucion Ignacio Agramonte.
The OHCC has done a great work in areas even beyond the limits of this city, particularly in sites bearing a special link with Cuba's wars of independence.
Established on February 24th, 1997 by the Executive Committee of the Council of Ministers, the OHCC has been recipient of several awards in its 18-year existence.
The local institution also boasts awards granted on the occasion of the refurbishing the Ursuline convent.
B.A. José Rodríguez Barreras, director of this office, thanked Camagüey foremost authorities for granting such an accolade, which is also a tribute for those who are not now among us physically.
Rodríguez Barreras repeated their commitment to continue doing things well in order to be a trustworthy entity which meets the people's expectations, champion of quality, ethics and values.
The ceremony was presided over by Cuban Deputy Isabel González Cárdenas, Speaker of the Provincial Assembly of People's Power in Camagüey province. (Nara Romero Ramos @NaraRomero28 / Radio Cadena Agramonte)
Radio Cadena Agramonte, June 26, 2015