Venezuela will deploy these resources to address the emergency caused by the COVID-19 spread.
March 17 (teleSUR) Venezuela's Foreign Affairs Minister Jorge Arreaza reported  Tuesday that the government of President Nicolas Maduro asked the International Monetary Fund (IMF) for a financing facility for US$5 billion from the emergency fund of the Rapid Financing Instrument (RFI).
These resources will be deployed to strengthen the response capacities of the Venezuelan health system in the containment of COVID-19, which also affected this South American country.
"Only under the spirit of solidarity, brotherhood, and social discipline, we will be able to overcome the situation that comes our way, and we will know how to protect the life and wellbeing of our peoples," said the Venezuelan president in a letter sent to the IMF director Kristalina Georgieva and that Arreaza published on his Twitter account.
President @NicolasMaduro has formally requested financing for $5 billion to the International Monetary Fund to strengthen the response capacity of our health system during the #COVIDー19 contingency. Another timely action to protect the people.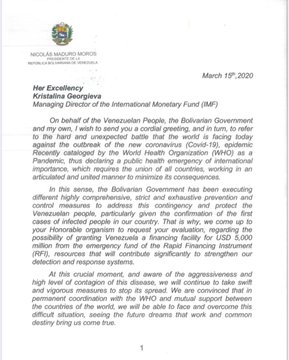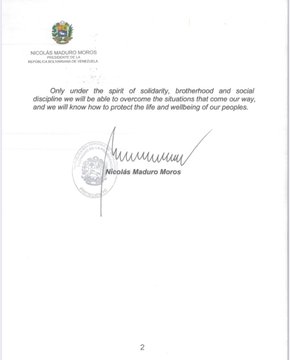 2283:00 PM – Mar 17, 2020Twitter Ads info and privacy452 people are talking about this
The Venezuelan head of State also expressed his conviction that in coordination with the World Health Organization (WHO) and mutual support between the countries of the world, "we will be able to face and overcome this difficult situation," that has worried all governments, mainly those with poor health systems.
On March 12, President Maduro announced a series of measures aimed at the prevention of the new coronavirus in the country, which until then had not registered confirmed positive cases, such as the mandatory use of masks on public transport.
However, in recent days, and given the confirmation of the first cases, the decisions have been escalating until this Tuesday entered into force a 'collective social quarantine' throughout the national territory.
Venezuelan Minister of Communication Jorge Rodriguez said that the South American nation had adopted the model implemented by China to confront the epidemic that is based on social isolation, in addition to the closing of all borders.
Venezuelan Government has confirmed until Tuesday morning a total of 33 coronavirus infections in the country, imported from Europe and Colombia.
Venezuela, plunged into an economic blockade by the U.S. since 2018, has been able to confront the crisis after a series of internal policies and the solidarity of countries such as China and Russia. However, the COVID-19 pandemic that has put the whole world on alert has also sparked criticism of the United States and its policies that threaten basic rights such as life.