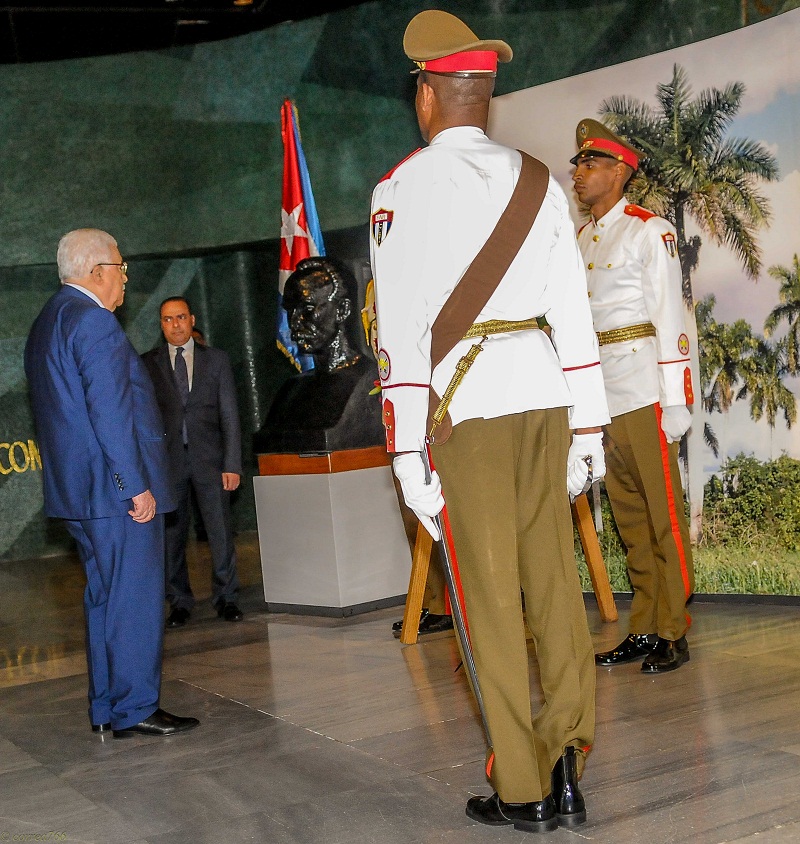 May 12 (Radio Rebelde) The President of the State of Palestine, Mahmoud Abbas paid tribute on Friday in Havana to Cuba's National Hero Jose Marti at Revolution Square.
Abbas, who also leads the Executive Committee of the Organization for the Liberation of Palestine, placed a floral wreath before the bust of the Cuban independence leader against Spanish colonialism located inside the Memorial.
Concluding the ceremony, accompanied by Cuban Deputy Foreign Minister Rogelio Sierra, the Palestinian leader toured the Memorial, site that treasures valuable documents on the life and work of Marti.
According to the program, Abbas met with the President of the Council of State and Ministers, Miguel Diaz-Canel Bermudez at Revolution Palace and will visit the Latin American School of Medicine on Saturday.
Cuba is the last stop of the Palestinian leader's tour through Latin America, which included Venezuela and Chile.
Cuba has expressed on several occasions its support to a broad, just and lasting solution to the Palestinian-Israeli conflict and the backing of the right of the Palestinian people to constitute a State with its capital in East Jerusalem and borders prior to 1967.
Cuba has graduated 238 Palestinian students, of these 222 from university level; and there are currently 90 young Palestinians studying medicine on the island.
Abbas was in Havana on September of 2009 by invitation of then President Raul Castro when the Palestinian leader participated in the signing of three bilateral cooperation agreements in the sectors of education, culture and sports.
Abbas was elected President of the Palestine National Authority in 2005 and three years later President of the State of Palestine.
He was also re-elected last May 4th as President of the Executive Committee of the PLO and ratified as Head of State.