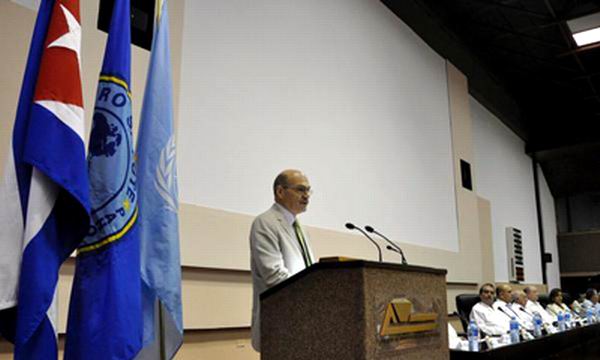 HAVANA, Cuba, Dec 3 (acn) José Luis Di Fabio, representative in Cuba of the Pan American and World Health organizations (PAHO / WHO), sent an acknowledgment to the workers of that sector in the country on the occasion of the Latin American Medicine Day which is celebrated on December 3rd.
Speaking to ACN, Dr. Di Fabio stressed that the Cuban health model is exemplary for the work of its doctors, nurses and technicians, among others, in various parts of the world, where they contribute to raise health indicators.
He highlighted the support of these professionals in Haiti, Pakistan and other states in disaster situations as well as in strengthening the health system in Brazil, using the Program ¨Mas Doctores¨ (More Doctors) in that South American nation.
The representative of PAHO / WHO praised the response of Cuban government to the call made by Ban Ki-moon, United Nations Secretary General, to support the fight against Ebola in West African nations.
He also commended the role played by Cuba, especially the Pedro Kouri Institute of Tropical Medicine, in the training of professionals from the country and elsewhere in the prevention, control of the disease and also preventing infection and its propagation.
He also emphasized medical education in the Caribbean nation and gave the example of the Latin American School of Medicine, which has graduated in three decades more than 24,000 doctors from about thirty nations.
PAHO, regional organization of which Cuba is a member since 1925, got yesterday at its 112th anniversary of founded.
More than 480,000 health workers in the country are recognized during the day of tribute by the Latin American Medicine Day, held every December 3, on the occasion of the birthday of Dr. Carlos J. Finlay.
The central act for the date will take place today at the National Institute of Oncology and Radiobiology, in Havana, institution with remarkable results.