The Cuban president has faced new challenges with the support of the whole nation and the solidarity of brotherly peoples.
April 19 (teleSUR) Cuba's President Miguel Diaz-Canel celebrates one year in office Friday, faced complex situations of natural disasters and a United States foreign policy that is trying to double down on the Revolution.
RELATED:
Mexico, China Vow to Protect Firms Against US Sanctions on Cuba
"I assume this responsibility with the conviction of the Cubans. … We will be faithful to the example of the historical leader of the Revolution, Fidel Castro," Diaz-Canel said in his first official speech last year and called for Cuban unity to continue constructing a prosperous socialism.
President Diaz-Canel faced a complex scenario May 18 when flight 972 of Cubana de Aviacion on a flight from Havana to Holguin crashed, killing 112 people on board. Subtropical storm Alberto, in Cuba, left at least 10 people dead and caused severe infrustructural damage.
Despite these national challenges Diaz-Canel has continued to advocate a unified left within a now right-dominated Latin America.
At the 26th Meeting of the Sao Paulo Forum held July 15, 2018, he advocated for unity among progressive and leftist forces amongst neoliberal policies and the hegemonic stance of the United States toward Latin America, particularly Cuba, Venezuela and Nicaragua.
"The Lima Group reiterated once again its interference in the Venezuelan government and indicated an alleged a negative influence by Cuba," President Diaz-Canel said and explained that the Latin American right is "following the U.S.'s perverse instructions. Our response is dignity against Monroe Doctrine," said the president at the forum.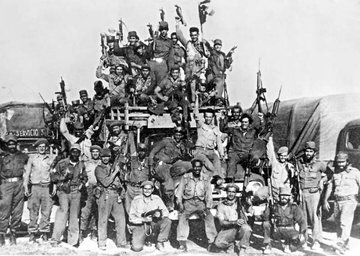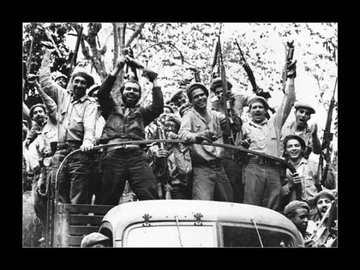 Memorial de la Denuncia@MemoriaDenuncia




Primera derrota del imperialismo en #AméricaLatina Solo la grandeza del pueblo #cubano fue la que hizo posible que tan solo en 60 horas de duros combates fueran derrotados los invasores al atardecer del #19abril #1961 #CubaSocialista #SomosCuba siempre #Venceremos 169:32 AM – Apr 19, 2019See Memorial de la Denuncia's other TweetsTwitter Ads info and privacy
"The [U.S.] Imperalism's first defeat in Latin America. Andnly the Cuban people's greatness made it possible that the invaders were defeated within only 60 hours of hard fighting, at dusk on April 19, 1961. Socialist Cuba. We are Cuba, we will always win."
Communist Party First Secretary Raul Castro has expressed his satisfaction with the management of the government.
"The process of transferring the main responsibilities to the new generations is going well, very well, without any setbacks or surprises, and we are sure we'll continue that way," Castro said during an event for the Cuban Revolution's 60th anniversary, reports CubaSi.
In terms of diplomacy and international cooperation, Diaz-Canel himself has traveled to Russia, North Korea, China, Vietnam over the past year, and was in Laos in November 2018.
He also attended the 39th Meeting of the Conference of Heads of Government of Caribbean Community (Caricom) held this in Jamaica and the 7th Meeting of the Association of Caribbean States (ACS) held in Nicaragua.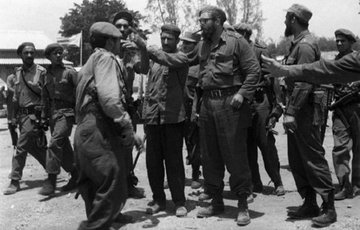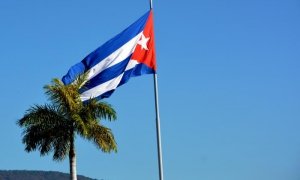 Miguel Díaz-Canel Bermúdez✔@DiazCanelB
The 58 anniversary of the Giron Victory motivates and inspires us. Faithful to its historic legacy, #Cuba and the Cuban Revolution reiterate their strong determination to confront and prevail over the aggressive escalation of the United States.#NoAlaLeyHelmsBurton #SomosCuba5889:31 AM – Apr 18, 2019452 people are talking about thisTwitter Ads info and privacy
Due to President Donald Trump's hostile actions towards the Cuban revolution, Diaz-Canel has been working to strengthen the national economy. In that sense, he led projects aimed at attracting foreign investment, increasing exports, substituting imports, and combating corruption.
Regarding the recent U.S. decision to implement the Helms-Burton Act, which threatens countries and companies doing business with Cuba, Diaz-Canel said April 13 that any new difficulty will be overcome with the strength of the Cubans and their solidarity with other affected nations.
"Cuba continues to trust in its strength and dignity as well as in the strength and dignity of other independent and sovereign nations," he said and commented that the U.S. people "should be ashamed of those who act to fringe universal law."
One of the most important achievements of the president's term so far has been the communal construction and ratification of the country's new constitution approved by popular vote Feb. 24.