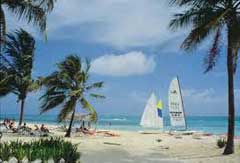 Camagüey, Aug 25. – Given the potentials of the northern coast of Camagüey to welcome national and foreign visitors, it stands among the eight top priority tourism development areas in Cuba.
It includes the municipalities of Nuevitas, Minas, Sierra de Cubitas, Esmeralda and Camaguey as well as the coral cays Cayo Sabinal, Cayo Guajaba, Cayo Romano and Cayo Cruz.
A total of 22,000 rooms are scheduled to be built before 2030 in the cays located in the northern coast of Camag?ey province, which will translate into a major economic and social progress.
On the other hand, there are other sites located in the southern portion of this province that might also be of interest for foreign tourists because of their beauty and biodiversity, namely places in the municipalities of Santa Cruz del Sur, Najasa, Vertientes and Florida, including the Jardines de la Reina National Park.
Many areas in Camagüey province stand as prime national tourist destination in the island country, and others display a number of potentialities for the development of the so-called leisure industry. (Juan Mendoza Medina/Radio Cadena Agramonte).