The relatives of the disappeared Argentines ratified support for President Nicolas Maduro and the Venezuelan people.
Jan 17 (teleSUR) The Mothers of Plaza de Mayo have dedicated their 2,127th march – which was staged in Buenos Aires, Argentina – to the Venezuelan people and the country's President Nicolas Maduro.
RELATED:
Mothers of Argentina's Disappeared March to Keep Memory Alive
Mirroring every Thursday since 1997, the Mothers gathered at the square facing Argentina's presidential palace to perform their "March of Resistance;" except, this Thursday, the group also incorporated protesting recent attacks that Venezuela has been receiving from the United States and its regional allies.
The marchers, who were accessorized with their traditional blue flags and white scarves, flew Venezuelan flags to show support to President Maduro.
"I dedicate our 2,127th march to the Bolivarian Republic of Venezuela and to its people," Hebe de Bonafini, the association's president, said and added that the United States "generates conflicts because [the country] wants a war in order to put a military base at the border with Venezuela."View image on Twitter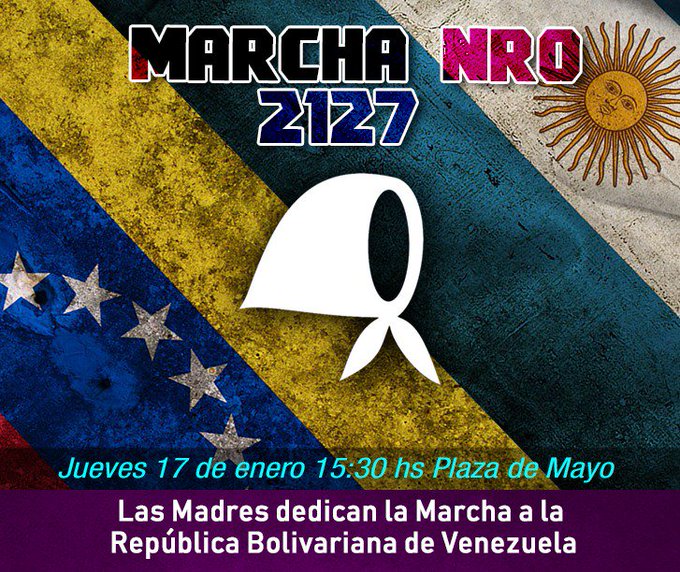 Mañana, 15.30h, las #Madres cumplen 2127 jueves de ocupación política de la plaza
Dedicarán su marcha para celebrar el triunfo de la democracia en la República Bolivariana de Venezuela y abrazar a su pueblo revolucionario, ese que mantiene viva la llama del eterno #HugoChávez1578:00 AM – Jan 16, 2019119 people are talking about thisTwitter Ads info and privacy
"The Mothers celebrate 2,127 Thursdays of political occupation of the square. They dedicate their march to celebrate the triumph of democracy in the Bolivarian Republic of Venezuela and to embrace its revolutionary people, which keep the eternal Hugo Chavez flame alive."
During the symbolic event, Bonafini also referred to the current economic situation in Argentina, a country whose citizens are increasingly mobilized against public service rates hikes and other neoliberal policies promoted by President Mauricio Macri.
"I greet that all the people are mobilizing but we have to make a reflection… [rate increases] always affect the working classes, the most impoverished, those who suffer the most," she said.
Hebe lamented that some Latin American countries support the U.S. interventionist agenda against Venezuela while calling on the region to stay together and avoid conflict.
"The world needs Latin America to join. There is no formula but to move forward and advance in integration," Bonafini stressed.
Tags