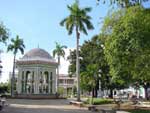 The eastern Cuban province of Granma offers a wide range of tourist attractions, based on the region's natural, historic and cultural wealth.
In that regard, the city of Manzanillo, known as the Pearl of Guacanayabo, stands out, due to its location on the gulf of the same name.
The city, the second in importance and the main port in the province, is well known for its beautiful oriental-style bandstand in the central park, in addition to several sites of historic and cultural interest.
Among the latter is the Parochial Church La Purísima Concepción de Manzanillo and the ruins of the sugar mill La Demajagua, which is a museum at present, and the House of Manuel Navarro Luna, which houses the Literary Promotion Center.
At the sugar mill La Demajagua, 15 kilometers from the city of Manzanillo, Carlos Manuel de Céspedes, known as the Father of the Homeland, proclaimed Cuba's independence and freed his slaves.
According to history, the city was founded as Puerto Real in the late 18th century and due to its geographic location, it grew due to maritime commerce with buccaneers from several countries behind the Spanish Crown's back.
In addition, Navarro Luna, who wrote energetic and patriotic poems, lived in Manzanillo, as well as the famous singer songwriter Carlos Puebla, whose songs have toured the world.
The city is also proud of being the home to Orquesta Original de Manzanillo, one of the most popular musical groups in Cuba that has taken the country's music to other continents.
The city is also the Birthplace of Son, so among its attractions is that of being one of the regions where that Cuban musical genre that is known internationally is played in a special way.
The current Carlos Manuel de Céspedes Park was named after the Father of the Homeland by a decree from the Town Hall on December 21, 1898, thus replacing its previous name Plaza del Recreo.
On that date, the names of the four streets that surrounding the park were changed, and the busts of patricians that flank the four corners of the park were inaugurated in 1925.
In Manzanillo, the Carnivals are a tradition and a sum of customs and spontaneous and induced expressions.
Cubans and foreigner parade moved by the rhythm of the comparsas (dance groups), they sing and dance with the music played by organs or popular songs.
The city is characterized by a colonial architecture and has a singular image based on the way its decorative components are presented, especially the carpentry and iron-wrought railings that suggest a particular language.
vacacionar travel, June 22, 2015