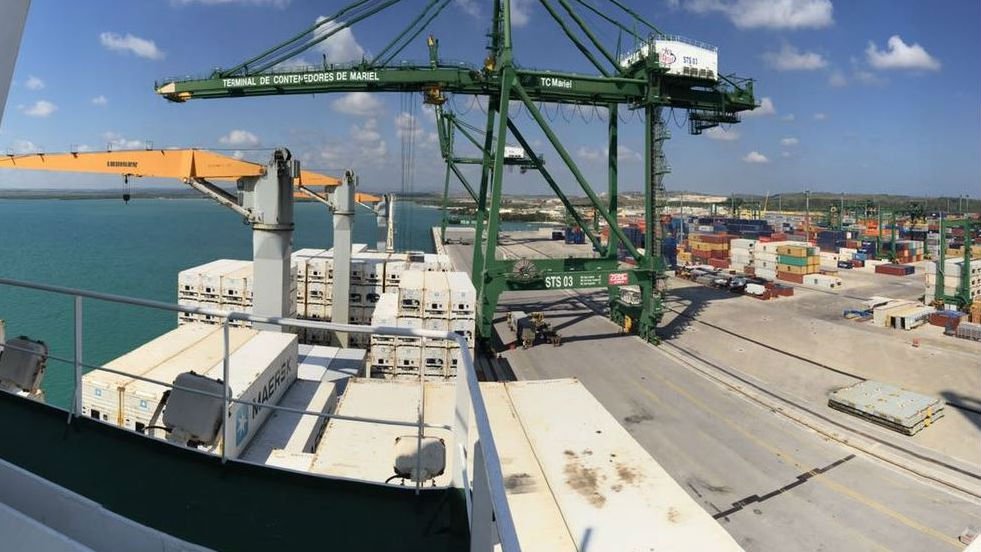 Maersk Line marked the introduction of its first direct service from Northern Europe to Cuba on Friday April 22 when a 2,556 TEU container vessel arrived in the Port of Mariel, located 50 kilometers (30 miles) from the country's capital, Havana.
The Cuba call is part of Maersk Line's CRX – Southbound service from Northern Europe to Manzanillo, Panama, providing customers the fastest transit times in the market from North European ports in Germany (Bremerhaven), United Kingdom (Tilbury), Netherlands (Rotterdam) and Ireland (Cork). A weekly feeder service further connects to Santiago in the Southeastern area of Cuba.
In recent years, the containerized market in Cuba has grown at a pace of 10-15 percent per annum. Drivers have been infrastructure investments and modernization projects, such as the creation of the Special Economic Zone of Mariel and the refurbishing of the old Havana Port for Cruises.
In addition, the country has undergone a series of structural economic changes that have had a positive impact on its development by allowing 100 percent private investments in certain industries and not least the resumed diplomatic relations with the U.S.
Cruise Industry First
Also on Friday, the Cuban government's official news outlet, Granma, published a notice on its English-language website that regulations governing arrival of Cuban citizens had been changed to permit people of all nationalities to arrive by cruise ship in Cuba.
Until the announcement, Cuban law forbade Cuban nationals from returning by sea, allowing only for their ability to arrive by air. The regulation was a vestige of the Cold War, intended to prevent espionage and infiltration.
Earlier this year, Cuba had given permission for Carnival Corporation to begin operating cruises to Havana and other ports, and Carnival had begun selling tickets for the maiden voyage of its Fathom brand – to all except for Cuban citizens, in compliance with Cuban law.
However, Carnival soon faced a civil rights lawsuit from Cuban-Americans claiming discrimination, and pressure from U.S. Secretary of State John Kerry, who called on the cruise line and on the Cuban government to allow all customers the right to make the trip by sea.
MarEx, The Maritime Executive
April 26, 2016