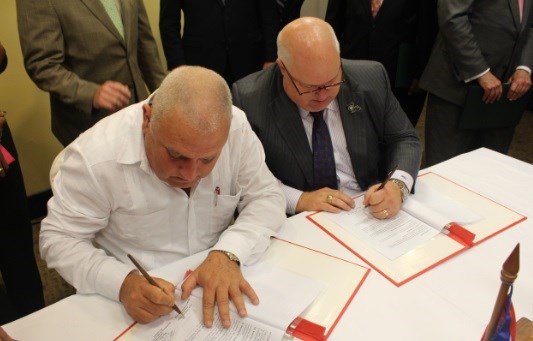 A Memorandum of Understanding (MOU)  to conduct trade of agricultural products was signed by Louisiana Department of Agriculture and Forestry (LDAF) Commissioner Mike Strain, D.V.M. and Cuban agricultural officials last week. During the week of October 3-7, 2016, Strain participated in a trade mission with Governor John Bel Edwards, Louisiana Economic Development and port officials.
"When our agricultural delegation first visited Cuba in July, we began what we hope will be a productive relationship in which Louisiana farmers will greatly benefit once the embargo is lifted. We have some of the best agricultural products and logistically, it makes more sense for the Cubans to trade with us," said Strain. "We want to ensure we are on the same playing field as everyone else once trade restrictions are relaxed."
Cuba imports 80 percent of its food at approximately $2 billion annually. The island nation imports most of its rice from Vietnam. Cubans reportedly consume the most rice in the western hemisphere.  Cuba needs commodities such as rice, wheat, corn, pork, poultry, beef, soybeans, petroleum and mechanical implements.
One obstacle in doing business with Cuba is third-party financing and issues with credit since Cuba is cash poor.
"Our next step is to push for the passage of the Crawford Amendment so we can have the same trade rules as every other nation," said Strain.
The Crawford Amendment would permit private credit to facilitate American agricultural exports to Cuba. The Crawford Amendment is currently withdrawn, but could be considered after the presidential election.
KATC.com