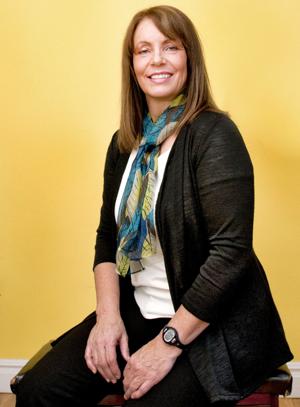 As a Marriage and Family Therapist and Group Facilitator at LDS Family Services, Barbara Kerkmann had the opportunity to travel with 21 other U.S. mental health professionals to Havana, Cuba, to learn about the country's mental health practices and the differences in health care there overall.
A Germany native, Kerkmann has lived in Utah for more than 20 years, working in various areas of social work and therapy. Currently her role at LDS Family Services includes assessing patients, planning treatment and providing family, couples and individual therapy in English as well as German to patients. She also facilitates group therapy for women who have experienced abuse and assists families in setting up realistic spending plans. Treating depression and anxiety, along with couples, family and parenting issues, Kerkmann specializes in cognitive behavioral therapy. Prior to her work with LDS Family Services, Kerkmann worked as a Marriage and Family Therapist and Family Financial Counselor at Blomquist Hale Consulting and Box Elder Family Support Center, treating similar conditions.
She has been published in a number of journals and is certified as a therapist through AAMFT (American Association for Marriage and Family Therapy) and AFCPE (Association for Financial Counseling and Planning Education). With her extensive career background and volunteer work as Team Camptain for Assistant Cycle Coach, she qualified to travel in the People to People Citizen Ambassador program trip from Dec. 5 to 13, 2014.
Q: You were able to spend a week in Havana, Cuba, for mental health programs. How did this opportunity arise?
A: There were different groups who went to Cuba at the same time we did. We're a mental health delegation — most of us were mental health professionals. People to People sends different groups with different emphasis. We were part of the Citizen Ambassador program. People to People also has city partnership programs. I was just in Ogden for a German festival — it turns out that was also started by People to People. They also have student exchanges, year-long or semester-long, programs for both high school or university.
Q: What was your role while you were in Cuba?
A: We were there to meet different professionals. There were 22 of us. Dr. Tom Barrett was the leader. We had an itinerary beforehand. The interesting thing was we were supposed to visit a medical school and their professionals, and they ended up coming to us at the hotel.
Q: How was information documented during the trip?
A: Our 22 participants, we had about three people per day who took notes and wrote up what they perceived during the day and the information that we gained. Cuba is one of the few countries that has the original Communist regime. Fidel Castro, you don't see very often. His brother, Raoul, is the one who is in charge. So the first day we arrived they took us to the Plaza de Revolution. It's like a huge parking lot, and they use it for parades and things. The only way to get to Cuba through the U.S. is through Miami, and there is a Cuba airline that flies back and forth. Q: What did the professionals have to share? A: Along with mental health, they also taught us about the health care program, and they're quite proud of their system. After the revolution when they became Communist, Fidel Castro had several emphases. One of them was education, and one of them was mental care and building up the country in different ways. Everyone has to go to school and receive at least a 9th-grade education.
Q: How do they train differently than the U.S.?
A: They have a unique way of training medical professionals. They have a medical school that is completely free to the people who attend. They have people from all kinds of countries coming there. There is two years of classroom work — it didn't seem there was a particular list of prerequisites or anything. This is followed by four years of an apprenticeship with a licensed physician who was also a professor. After six years, they are awarded the designation. It's very streamlined, very focused. It's very basic. You'll have an examination table, you'll have a blood pressure cuff and a stethoscope and that's basically it.
Q: How do they organize how to care for patients and which professionals take on which patients?
A: The general practitioner is basically in charge of a region. Let's say somebody comes in with a problem. If the patient doesn't show up, the nurse will go and find the patient. We talked about maybe somebody had been hospitalized because they made a suicide attempt. Our issue in this country is the patient has the right to decide whether they want treatment or not, and if they don't follow through, everything goes on without a problem. And that happens periodically where someone with a known mental health problem loses it.
Q: What happens when a patient might not be following up on their own care?
A: Often patients will lose touch (with) reality. We had a lady who went to the KSL center and shot people there because she was delusional. And somebody went to the LDS Family History Center and shot the receptionist. These were usually mental health patients who had gone off their treatment program. In Cuba, they told us, the patient comes back and the doctor is responsible for follow-up, and if they don't follow up then the nurse will go and give them a shot periodically so that they are medicated. That is required medically necessary. It's a totally different approach from what we do.
Q: Is there any progress in changing our mental health care approach to be more effective in follow-up?
A: Here in the U.S. we have the issue of self determination and individual rights versus what a doctor might think is necessary. That's the tricky thing here. If somebody is medicated, they're doing fine and so everybody signs off — OK. They're OK to go back into the community, and they're supposed to check into Bear River Mental Health or county mental health periodically. If they don't follow through, there isn't much we can do. As far as individual rights go, as long as the person seems to be able to make good choices, we can't do anything to force them or admit them for treatment. Something drastic happens before more attention is given. The medication works, they're feeling good and they think, "I'm fine, I don't need this stuff anymore."
The system there, they do education; they do medication. They told us they made quite a bit of inroads with vaccinations and so most people are vaccinated because the doctors make sure they are and there is this follow-up. There isn't as much individual choice. Obviously it wouldn't work here. People would scream bloody murder if they were compelled to get vaccinated. Under their system, it's doable. Infant mortality dropped drastically, they told us.
By Natasha Bodily, The Herald Journal
February 13, 2015