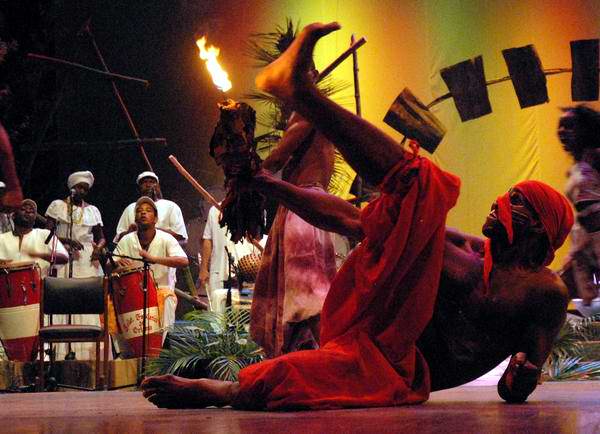 Santiago de Cuba, Mar 2 (ACN) The Bonaire delegation with some 200 participants will attend the 37th edition of the Fire Festival (Fiesta del Fuego) scheduled from July 3rd to the 9th in Santiago de Cuba, this year dedicated to the Dutch Antilles.
Orlando Verges, Director of the Casa del Caribe, said during a presentation on Thursday, on occasion of the 35th anniversary of the institution, that some 100 delegates will also attend from Curacao, in addition to Mexico, US and Virgin Islands.
He highlighted an increase of national participants and the importance of the yearly festival which will pay tribute to the 35th anniversary of the Casa del Caribe on June 23rd.
Verges referred that different activities will be held during 2017 to celebrate the anniversary of the institution which will include homages to its founders, above all to Joel James Figarola, who was also one of its directors, and Dr. Armando Hart Davalos, theoretical meetings, exchanges between groups, community actions, exhibitions among others.
He also highlighted the research contributions that the Casa del Caribe has made on history and popular and traditional culture of the peoples of the area reflected in different publications, including the Caribe Magazine which, since 1983, has scientifically legitimized different disciplines and spiritual values that treasures and distinguishes the region.
The cultural specialist pointed out the identity of the institution in its over three decades with the people whose religious tendencies and other daily practices have inspired research and many of the initiatives of the Casa del Caribe, of which Fiesta del Fuego is its major task, considered one of the most important popular and traditional events in the region.
Inaugurated on June 23rd 1982 and unique of its type in Cuba, the Casa del Caribe is based in the eastern city of Santiago de Cuba and since its foundation has been the center of research and promotion of Caribbean history and culture. It is a permanent reference center for the search of identity of this important geographic location.