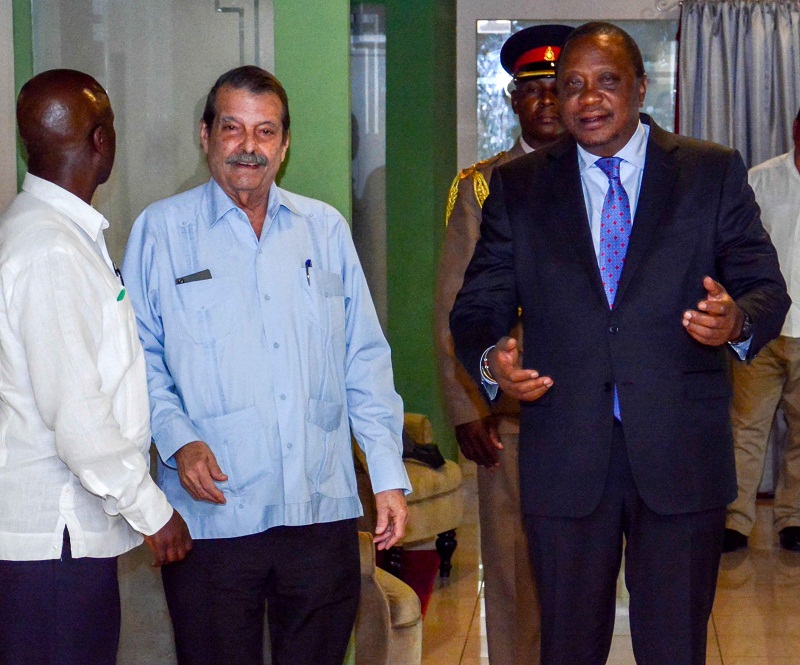 March 15 (Radio Rebelde) Kenyan President Uhuru Kenyatta arrived on Wednesday in Havana for an official visit and will participate in the inauguration of its embassy on Friday in Havana.
Cuban Deputy Foreign Minister Abelardo Moreno welcomed the African dignitary who will hold official talks with President Raul Castro.
According to the program of activities offered to the press, Kenyatta will also meet with Government authorities and pay tribute to Cuba's National Hero Jose Marti and African leaders in a park in their memory located in Playa municipality.
As part of his visit, the Cuban Chamber of Commerce and Kenya's Chamber of Commerce and National Industry will sign a cooperation agreement.
Nairobi and Havana maintain diplomatic relations since 1995 and cooperation ties in different sectors like education between the Raul Roa Higher Institute of International Relations and the Kenyan Academy of Foreign Service.
The Kenyan President will conclude his agenda in Cuba on Saturday.
Kenyatta was sworn in as President for a second and last term on November 28th, 2017, after his overwhelming victory in his reelection during the new presidential elections on October 26th, 2017.
Kenya is an African nation with over 580 square kilometers in extension and a population of 39 million people and tourism is its main source of income while coffee and tea are its main products.
By Lisandra Romeo Matos