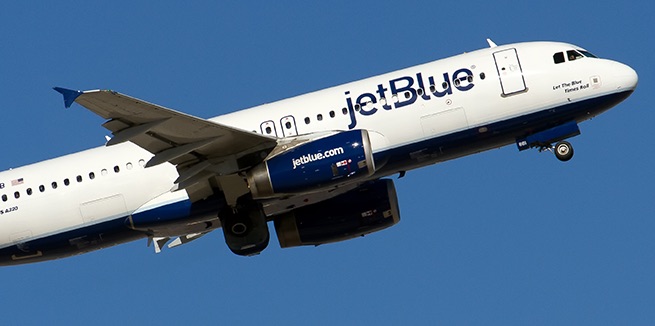 Nearly two years after the United States began allowing Americans to travel to Cuba—and three days after the death of Fidel Castro—JetBlue launched their first commercial flight to Havana from JFK Airport this morning. Unsurprisingly, it was a little delayed.
Flight 243 to Havana was scheduled for 8:58 a.m. this morning. It left around 9:27 a.m., according to JetBlue's website, and is expected to land in Cuba at around 1 p.m. Tomorrow, a JetBlue flight will depart from Orlando International Airport for Havana for the first time, and on Wednesday the airline will launch its inaugural Havana flight from Fort Lauderdale-Hollywood International Airport. Flights from JFK to Havana will run about $200 roundtrip.
"Our historic first flight kicked off a new era in travel to Cuba, and once again JetBlue will make history with flights that finally make flying to the Cuban capital simple, affordable and enjoyable," Robin Hayes, JetBlue's president and chief executive officer, said in a statement. It looks like the airline had a little party:
Cuba has been the focus of increased media attention in the wake of longtime dictator Fidel Castro's death on Friday. Though the Obama administration has been working on normalizing economic relations with Cuba over the last couple of years, all that hangs in the balance thanks to President-elect Donald Trump. Trump, who tweeted about Castro's death with his usual grace, says he will reverse Obama's stance on Cuba if the government fails to "make a better deal for the Cuban people, the Cuban/American people and the U.S. as a whole." It's unclear whether he'll actually go through with that threat, or if it's merely the latest flight of fancy that's passed through his demented head.
Meanwhile, here are some slightly outdated tips on traveling to Cuba.
Rebecca Fishbein, gothamist
November 28, 2016