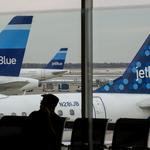 JetBlue Airways Corp. and American Airlines Group Inc. are seeking to increase flights to Cuba from South Florida even as the Trump administration wants to limit travel to the island nation.
American Airlines (Nasdaq: AAL) wants to add 10 new weekly flights to Havana from Miami International Airport, while the budget airline JetBlue (Nasdaq: JBLU) is hoping to add six new flights from Fort Lauderdale-Hollywood International Airport.
Both airlines submitted an application with the U.S. Department of Transportation requesting to increase the number of flights to Cuba from South Florida.
The federal agency is accepting applications from airlines as part of its proceedings to reallocate 21 frequencies, or flights, to Cuba after Spirit and Frontier cancelled flights to the country earlier this year.
The agency only allocates so many flights to Cuban airports, so airlines are pitching their case as to why they should receive more. Havana's José Martí International Airport is of particular interest because, as American states in its application, it's the only airport that isn't oversaturated with flights to the U.S.
While American increases its flights to Havana, it will drop a route between MIA and the Jaime González Airport in Cienfuegos, Cuba by January 2018. If American is given the go-ahead for 10 new flights to Havana by the U.S. Department of Transportation, it will increase its number of total weekly flights to 73 per week excluding the Cienfuegos route.
Matt Miller, a spokesman for American, said Miami travelers can get to Cienfuegos easily from its route between MIA and the Abel Santamaría Airport in Santa Clara, Cuba.
In June, President Donald Trump said he wanted to impose more travel restrictions and limit U.S. business dealings with the Cuban military. Some cruise lines and other South Florida businesses have scaled back their business plans in Cuba.
Specifically, Trump's new policy would make individual travel by Americans to Cuba more difficult.
American Airlines said in its application that these new limitations further concentrate demand for U.S.-Havana travel to passengers with family and cultural ties to Cuba.
The airline believes MIA is the gateway least impacted by the change in policy, since Miami-Dade County is the nation's largest Cuban-American population center.
JetBlue also highlights South Florida's strong ties to Cuba in its application and said it "urges the Department to re-allocate frequencies to low cost carriers offering Fort Lauderdale-Havana service."
It adds, the department should "consider service from new routes before considering awarding additional flights to a legacy carrier looking to strengthen its already strong hub position from Miami."
The airline is looking receive the Department of Transportation's entire reallocation of 21 flights to Cuba. In addition to Fort Lauderdale, it would adds additional flights to Cuba from Boston, Newark and New York.
JetBlue's move to increase flights to Cuba seems to be a turnaround strategy.
In February, the airline announced it was scaling back on its Cuba flights. The airline made history last year when it became the first commercial U.S. airline to host a commercial flight to Cuba in more than 50 years.
Keith Larsen, South Florida Business Journal
September 15, 2017
Digital Producer Emon Reiser contributed to this story.