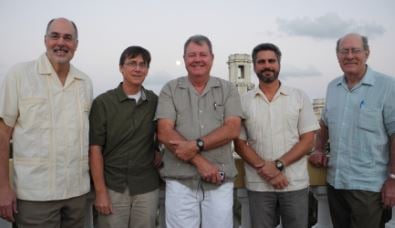 CORPUS CHRISTI – Scientists with the Harte Research Institute for Gulf of Mexico Studies (HRI), plan to spend a lot of time in Cuba this spring. HRI is one of the few American academic institutions licensed to work in Cuba, and it has been engaged with the Cuban marine science community since its founding back in 2002.
And now with the United States re-establishing diplomatic relations with the island nation, HRI plans to move forward on joint environmental protection initiatives with Cuban scientists. HRI Executive Director, Dr. Larry McKinney, says the institute has spent a lot of time laying ground work in Cuba, "So we have great relations with our Cuban counterparts, and they are able to work more openly with us, and more importantly we'll now be able to take scientific instruments into Cuba with us which we couldn't do before."
McKinney says the primary mission of HRI is to support a sustainable future for the gulf region. And he says that will not be possible, unless we work closely with both Cuba and Mexico. We will have an in-depth interview with Dr. McKinney on all of this, in our 5 p.m. and 10 p.m. newscast on Sunday night, December 27th.
See video here.
By Lee Sausley, kristv.com
December 23, 2015