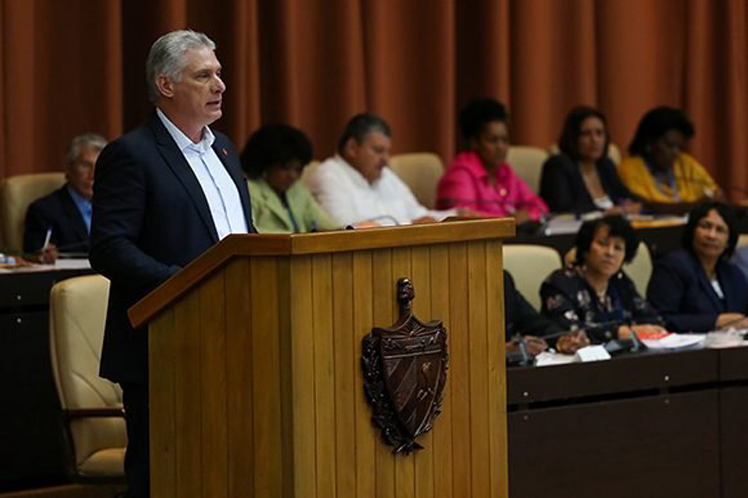 July 15 (Radio Rebelde) The Third Period of Sessions of the IX Legislature of the Cuban Parliament is considered historic this Sunday, both for the approval of three important laws and for the debated issues, of citizen interest.

It was a parliamentary exercise that had the active participation of the president, Miguel Diaz-Canel, even in the debate and subsequent approval of the Electoral, National Symbols and Fishing bills.

It is the first time that the legislature approves three legislations in the same session, where also members of the National Electoral Commission were elected by secret and direct vote, on the proposal of the president, according to the Electoral Law.

This was the opinion of the president of the National Assembly of People's Power, Esteban Lazo, who emphasized the popular character of this body, composed of deputies 'elected by the people and for the people'.

This was the first time the Assembly had been convened after the approval in February of the new Constitution of the Republic, which granted six months to the legislative body to elect the body in charge of organizing and supervising elections, referendums and other acts requiring popular vote.

The parliamentary session also put a strong emphasis on economic issues.

It turned out that the Gross Domestic Product grew in 2018 by 2.2 percent, while the plan was a modest 1.2 percent increase.

The Minister of Economy, Alejandro Gil, announced the progress of the economy in the first quarter of this year, where exports are growing, although much remains to be achieved in this regard.

In his speeches, President Miguel Diaz-Canel underscored the difficult conditions imposed on Cuba by the economic, financial and commercial blockade applied by the United States for almost 60 years.

The president emphasized that the encirclement policy is reinforced by the latest anti-Cuban measures of the White House that prohibit the visits of tourists, cruise ships, yachts and private U.S. airplanes to Cuba.

When Cuba was expecting a million cruise passengers this year, the final figure will be cut in half by Washington's sanctions,' said the Economic Affairs Committee, one of Parliament's 10.

It was also reported that for the same reason tourism activity decreased in June 20.33 percent.

But Diaz-Canel said the U.S. siege does not disturb the sleep of Cubans, who are determined to build a prosperous and sustainable socialism.

(PL)