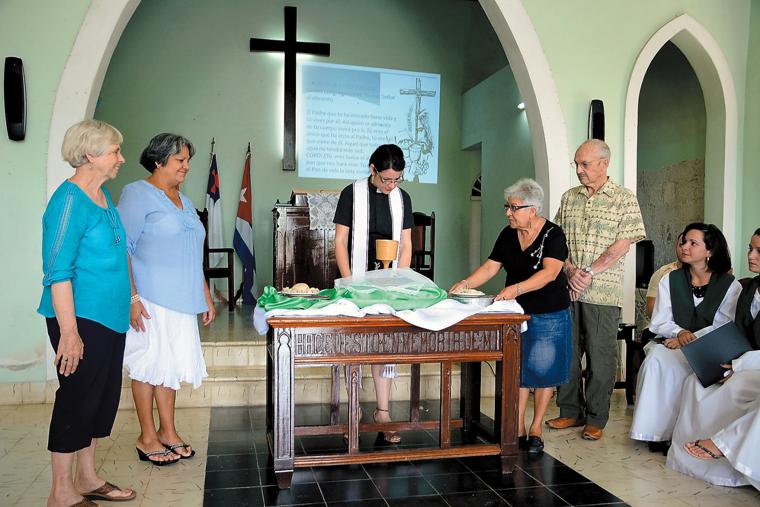 Cuba and the United States are beginning a new chapter in history with diplomatic relations begin restored after years of embargoes and restrictions.
The year was 1962 when the American government began those economic embargoes to subvert Fidel Castro. Today, there is hope on both sides that trade, tourism and a fresh start will be positive for both countries.
Highland Presbyterian Church in Maryville has a head start. Members of this church have been making trips to Cuba every year since 2009. One longtime member of the congregation said his first trip there was back in 1985. He's made 30 such treks.
Friends across the way
The most recent trip to this Caribbean country by Highland was just this past April. The pastor, the Rev. Billy Newton, and a handful of others were there for a week. Cuba does not receive U.S. tourists because of our government's economic blockade for the past 50 years. The connection established between the Presbyterian Church USA and the Presbyterian-Reformed Church in Cuba has enabled many to visit Cuba as part of seminars and mission teams.
On Sunday, Highland welcomed Jo Ella Holman, regional liaison in the Caribbean for the Presbyterian Church USA. She resides in the Dominican Republic but Cuba is also her territory that also includes Jamaica, Trinidad and Tobago.
She said the Presbyterian-Reformed Church in Cuba was part of the Presbyterian USA until the Cuban Revolution. After the revolution, it became impossible for the Cuban church to function as part of the church here so they became independent.
"But we have maintained really close ties through all of these years," she said. "Even when it was not so easy to travel there and it was a not at all easy for Cubans to come here. We have maintained that church connection."
Ties that bind
Things have opened up over time, Holman said. Today, there are 90 relationships established between the Presbyterian Church USA and those in Cuba.
"Those are strong relationships," she said. "I don't see that changing. I see that deepening as the U.S.-Cuban relationship improves. More opportunities should come."
Young said when he tells people he travels to Cuba, they always want to know how he does it. "I tell them I went to Miami and got on an airplane. There are charter companies that have flown there all through the revolution. Most people don't know that.
In those years of traveling to Cuba, Young said he has always been treated well by the government there. That's something else that is a shock to many people, Holman said.
Exciting growth
Holman points to many positives taking place in Cuba. She said the church has been working for a number of years to train lay leadership. There is an ecumenical seminary in Cuba, she pointed out, that will soon celebrate its 70th anniversary. "It has never closed its doors, even during those years when it wasn't so easy to be religious in Cuba," she said.
There is growth of new Christians and an expansion of that seminary. It now offers degreed programs in areas like Christian education and service. Last year, more than 500 students were enrolled. It was the largest graduating class in history, Holman said.
"There has been a really strong effort to grow church leadership," she said. The ecumenical seminary has different denominations but is mainly protestant.
When some learn of this Cuba-U.S. tie, some might think it's all centered around what this country can do to help that one. But Young said the church in Cuba stands on its own and doesn't ask for help.
"They ask for us to visit and maintain relationships but they are their own church," Young said.l "They don't depend on others for help. They know how to do church. They are the church."
A real connection
Young added that he feels a dual church membership — one here at Highland and the other at the Presbyterian Church in Taguasco, Cuba, where he and others have visited for years.
Holman said the friendships that have been developed between these two congregations lets the Cuban church know they aren't alone. They can feel really isolated at time, she said.
Newton's first trip to Cuba was this past April with Young and a few others. He said what he discovered was a group of people with deep faith and persistence, even when the revolution was a struggle.
As he walked the streets, this pastor said he was awed by the fact this church was the center of activity each and every day, and night. There were things going on inside, outside on the street, in the driveway and courtyard.
The activities aren't always planned. Some in the community will just show up at the church on their lunch breaks.
Numbers don't lie
Highland is a small church, but they are committed to this congregation of other brothers and sisters in Christ hundreds of miles away. A total of 23 members at Highland have visited Cuba, Newton said, which is about 30 percent of the active congregation.
Over the years, Highland has helped Taguasco purchase a horse to pull a wagon that delivers meals on wheels to shut-ins and the disabled. Personal gifts from Highland have been used to renovate the church's kitchen and buy a bus to be shared by churches in the presbytery.
Recent polls have shown that both U.S. and Cuban citizens are in favor of opening up relations Holman said most Americans are curious about this country that sits only 90 miles off the coast of Florida.
There is misinformation out there about this Caribbean country and Holman said once tourism gets going, she hopes people will take the time to learn more and visit.
"The ones who know the most about Cuba are the churches that have been going there," Young said.
By Melanie Tucker, The Daily Times
August 8, 2015