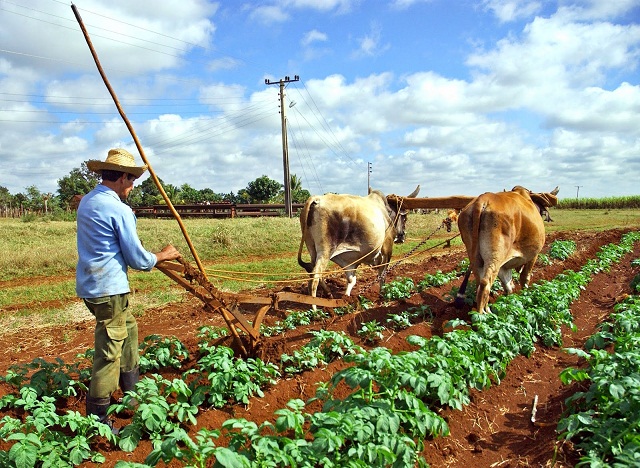 April 7 (Radio Rebelde) Over $ 620 million Cuban Peso-currency is the total financial sum for the Cuban agricultural sector's current investment program that is being carried out this year 2018 and it is higher by some $ 150.000 million than last year.
Those related actions are being aimed at strengthening and increasing the root vegetables, vegetables, grains, eggs productions and other sectors of the cattle raising in order to produce in Cuba the food required by the population and gradually substituting the huge sum invested in the nation in terms of importation yearly.
The director of investments of the local Ministry of Agriculture, Luís Enrique Días Burón, the responsible for the related development and investments of the Rice Group of the Agricultural Business Group, Aramí Díaz Torres, and the engineer, Isander Aguilar Pérez, explained on the local Haciendo Radio program of the Radio Rebelde Station, the priorities set about the rice and tobacco programs as well as the increase of the volumes harvested of beans, corn and other crops, as well as the ending of the Este Oeste (East-West) dam which is being carried out in the eastern Holguin province at a cost of almost $ 800.000.000 Cuban Peso-currency and it will guarantee water for some 26.000 hectares in some municipalities from Holguin province.
With that investment that is being built by the related workforce of that institution and the Hydraulic Resources Institute, among others, it is estimated a related 40% growing of the current productive levels and a much better use of the cultivable areas in that territory.
In the same way, they explained the challenges for this current year in terms of finishing the programed works on time, along with the required quality in which the efficiency should be the priority for each one of those actions.
Even though there is an increase of the investments at a 12% rhythm in the last years, there have been some dissatisfactions by construction workers and the local MINA institution as it could have been done much more through a much better use of the available resources.
By José Cabrera Peinado