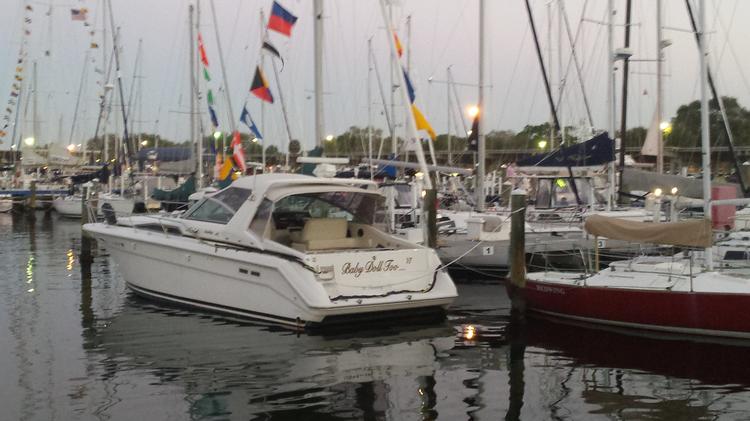 Nearly 675 sailors from 75 vessels hailing from different nations were on hand at the St. Petersburg Yacht Club on Sunday night to celebrate the newly relaunched St. Petersburg/Habana Race, which will begin Tuesday, following a 58-year hiatus.
Race participants came from as far away as Canada, Great Britain, France, Germany, Spain, the Netherlands and South Africa.
Not only did the Yacht Club's history dinner on Sunday night attract an international field of contestants, it also drew the likes of political figures such as St. Pete Mayor Rick Kriseman, who made it clear that he was still fighting to make St. Petersburg the future home of a Cuban consulate.
"We are here at this exciting time to witness the revival of U.S./Cuba relations; to allow the people of this great country to share our values and shine the light of friendship on Cuba," Kriseman said.
Rep. Charlie Crist (D-St. Petersburg) was also on hand.
"This is not just a race, this is an historic occasion bringing together our two countries, bringing together these two cities," he said. "The Cuban island has been opened up, progress is being made, and it benefits both Cuba and St. Petersburg and Florida and our America."
The race is the latest example of the growing business and tourism ties between Tampa/St. Petersburg and Cuba. Southwest Airlines' first commercial flight to Havana from Tampa took off in December. Royal Caribbean International (NYSE: RCL) will offer cruises to Cuba starting in April, and Carnival Cruise Line's (NYSE: CCL) Carnival Paradise will begin voyages out of Port Tampa Bay to Cuba starting in June.
Speaking through an interpreter, Commodore José Miguel Díaz Escrich, the port officer of the Hemingway International Yacht Club of Cuba, addressed the crowd, saying: "This was a very special night for me." He added that his team has been working on relaunching the regatta for 25 years.
"Three Cuban-Americans from Tampa will be participating in this very historic race back to Cuba," he said, adding that four resident Cubans from Canada will also be participating. "This is a labor of love from the bottom of my heart."
The St. Petersburg Yacht Club last staged the race in 1959, when Cuba's government came under the control of the late revolutionary leader Fidel Castro. It was originated in the late 1920s by George S. "Gidge" Gandy as a promotional event to help St. Petersburg, which was suffering from a housing bust brought on by the Great Depression. It was also the era of Prohibition. At the time, 11 boats competed in the inaugural regatta, which started on March 30, 1930 at the St. Petersburg Municipal Pier.
St. Petersburg Yacht Club Commodore Richard H. Birkenstock said the regatta was "one of four pre-eminent races" in the United States in the 1930s, 1940s and 1950s.
"What we're trying to do is re-establish that preeminence," Birkenstock said. The race is also intended to "rekindle the spirit of friendship between two culturally different people sharing one ecosystem."
Besides the Sunday dinner, there were several other events leading up to the race Tuesday morning, including safety seminars. A bon voyage party for race contestants is planned for Monday evening.
The race launches in Tampa Bay near downtown St. Petersburg off the downtown St. Pete waterfront at 10 a.m. Tuesday. The sailboats are expected to gather in the basin for the official start before heading toward the Sunshine Skyway Bridge and out into the open seas.
Boats with names such as Adagio, Libertad and Tampa Girl will sail one to two days and arrive in Havana on Thursday, after 284 nautical miles of competitive sailing. Once there, the sailors will be at the Hemingway Marina through Sunday, March 5. There they will participate in a separate, 16-mile regatta with local sailors that runs from Hemingway Marina to the Morro Castle. A contingent of family, friends, dignitaries and sailing enthusiasts will fly to Cuba to join in three days of festivities after the race.
St. Petersburg Yacht Club's former Commodore, Richard Winning, whose father was Commodore when the race last sailed in 1959, said relaunching the race will solidify "the exchange of fellowship between the St. Petersburg Yacht Club, Pinellas County and the city of St. Petersburg, along with the Cuban government and the yachting world."
Frances McMorris, Tampa Bay Business Journal
February 27, 2017