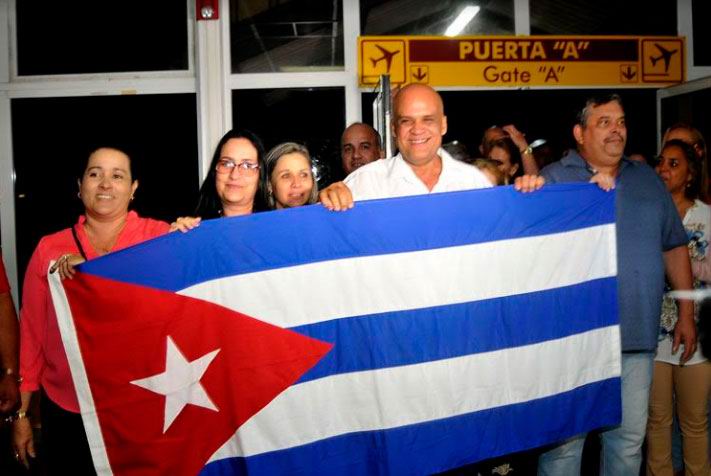 Nov 15 (Radio Rebelde) Happy to have fully accomplished their internationalist mission in Brazil, but also concerned about the fate that awaits that people with the newly elected president, the first 196 Cuban aid workers arrived in Cuba after learning of the decision of the Island to end its medical collaboration there.
In Terminal 5 of the José Martí International Airport, when welcoming them together with representatives of several institutions, Dr. Regla Angulo Pardo, member of the Central Committee of the Party and Vice Minister of Public Health, congratulated them for having fulfilled with dignity the task given by the Revolution during the three years in which they remained in the South American giant.
She told them that they were arriving at a special moment, in reference to Cuba's announcement not to continue participating in the More Doctors for Brazil Program, in the face of President Jair Bolsonaro's threats to condition such assistance to his neoliberal interests, and stressed that the Statement in this sense of the Ministry of Public Health will undoubtedly "be supported by our doctors, because principles and dignity are not negotiable.
In statements to the ACN, Dr. Marianela Leyva Rodriguez, from Las Tunas, described as correct the measure adopted by the Cuban government, "since we cannot negotiate our principles, although I am saddened to know that this very humble community in the municipality of Amberes, in Salvador de Bahia, where for three years I was practically the only doctor, will not be replaced".
Another specialist in General Integral Medicine, Nadiesta Jisules Martí, from Pedro Betancourt, Matanzas, stated that they were not surprised by the MINSAP statement because we knew well that the position of the president-elect of that country was not in line with our convictions; there I saw how in health money, profit, prevails over human beings.
For Dr. José Ángel Veliz Gutiérrez, from Pinar del Río, the mission in the state of Paraiba, Brazil, was a unique experience, having to attend to a poor, illiterate population lacking real medical and human attention, and to which we gave a lot of love and science for 37 months, but we cannot accept the threats of a president turned lackey of the empire, he said.
Eduardo Rodriguez, First Deputy Minister of Transportation; Nelson Cordovés, head of the General Customs of the Republic; and Dr. Jorge Delgado, director of the Central Medical Cooperation Unit, among other MINSAP officials, also attended the reception of this first group of health professionals.