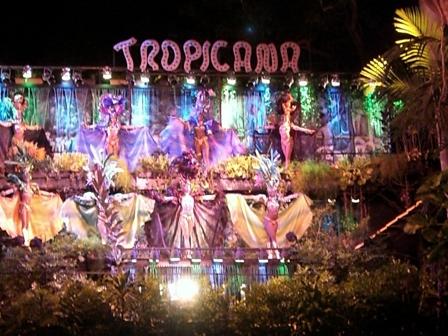 Havana, Dec 31 (Prensa Latina) The famous Cabaret Tropicana in Havana today celebrates its 75th anniversary, with a tradition of celebrities, a colorful atmosphere and the interest of travelers worldwide to visit it.
Its stage featured prominent Cuban and foreign art personalities, such as the unique Rita Montaner or the pianist and composer Ignacio Villa 'Bola de Nieve'.
In the late 30s, ideas to create a night club on the grounds of a certain part of the district of Marianao, in an end of the capital, an area then called Villa Mina, started to be considered. Eventually, the widow Chaumont Truffin decided to lease this property to build there a night club.
On December 31st, 1939 this space for fun and good art was born, with a series of expectations among wealthy habaneros of the time.
When it opened, it had 300 seats, but today Tropicana has increased its capacity to more than one thousand chairs,among tables and tight spaces.
In 1950 the Cuban sculptor Rita Longa, now deceased, finished and placed a white figure of a classical dancer at the entrance, that eventually became the symbol of Cabaret and was later established as an award (Trofeo Tropicana).
But Tropicana is not only a Ballroom Under the Stars, there is also Los Jardines, formerly Casino, with music of violins and piano, the Bar-Restaurante La Fuente and cafes.
Among this great skein is La Fuente de las Musas (or Nymphs) purchased for the Cabaret in 1952.
The pace of the more than 100 thousand people who visit Tropicana from year to year (mostly Spanish, Italian, German and French), gave the place a sort of flag of immortality, link to the best of Cuban tradition and banner of island tourism.
By Roberto F. Campos
sc/lvd/acl/rfc